Funky Ferndale Art Fair / DIY Street Fair Coming Sept. 21-23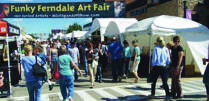 FERNDALE IS NOT YOUR CONVENTIONAL MIDWEST TOWN, and that is reflected in the unusual shops, eclectic restaurants and even its festivals.
For 15 years, The Funky Ferndale Art Fair has been bringing unexpected and edgy fine art to the city. A few years later, the DIY Street Fair began, adding music, beer and a selection of less traditional art mediums. Both shows return this year on September 21-23.
Presenting two fairs at the same time creates an opportunity for shoppers to see a greater variety of art. Those attending one fair may discover that there are also things that they love on the other side of Woodward. Each fair is separate, with different planning and visions, so they stay surprising.
In addition to over one hundred artists or vendor booths in each show, both offer hands on opportunities to explore the arts. Traditionally, DIY has had family-friendly projects adjacent to the library. Funky has introduced some unusual projects over the years, from the world's longest comic strip to toilet-paper-mache. This year, participants will be able to work on the community mural, create take home art projects, visit selfie stations, have their caricature painted and more.
Both shows have their own distinctive personality. DIY has a strong focus on music, beer and food trucks. It celebrates the concept that peo-ple with a "Do It Yourself" outlook bring a passion to everything they do. Funky Ferndale is dedicated to juried artists from across the country. Many are represented in major museums and galleries. A difference between Funky Ferndale and other major art fairs is that the jurors look for artists that have an edgier touch. You may find some of them in other fairs, but to see over 100 in one place you must go to Funky Ferndale.
Funky Ferndale Art Fair has turned into a very competitive show, with over 300 applicants each year for about 120 spaces. The committee works to include both established favorites and great new artists. This year, more than 25 artists are coming for the first time. This includes established artists from as far away as California and some that work out of their Ferndale garages. A list of artists, with sample images of their work, is available on the FunkyFerndaleArtFair.com web site.
DIY has a wide selection of offerings, including items such as soaps, candles and t shirts. All show creativity and a dedication to quality. Their web site (www.Ferndalediy.com) includes lists and photos of what to expect on the East side of Woodward and Nine.
If you're looking for a great time and some quality one-of-a-kind items, there's no place better to go than art weekend in Ferndale featuring both the Funky Ferndale Art Fair and the DIY Street Fair.
Funky Ferndale Art Fair – Friday 3:00 PM to 7:00 PM, Saturday 10:00 AM until 7:00 PM and Sunday 11:00 AM until 6:00 PM. Nine Mile west of Wood-ward.
DIY Street Fair – Friday 6:00 PM to 10:00 PM, Saturday 11:00 AM until Midnight and Sunday 11:00 AM until 11:00 PM. Nine Mile and adjacent areas east of Woodward.
Parking – Ferndale's many parking lots will be open. Street parking is permitted in many areas. The Credit Union One parking structure will also be available for a small donation for Fern Care.