From Basement to Storefront : Bayberry Music opens in Ferndale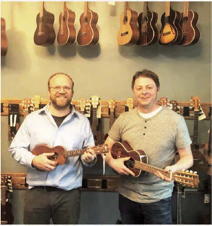 By Jon Szerlag
MUSIC, ESPECIALLY ON A WELL-CRAFTED INSTRUMENT, IS ONE OF THE FEW THINGS THAT INFLICTS EACH OF THE SENSES. It can stir emotions at a single strum of a guitar or stanza of lyrics. There are songs of romance and heart-ache; persecution and redemption; empowerment and admitting weakness. The thud of a beat you feel in your chest can make you want to move, and a three-chord song can stop you in your tracks.
Music is powerful, and the owners of a newly opened music store in Ferndale, Andrew Pursell and Joel VanderLinde, want musical instruments to be within reach for anyone, no matter their economic status or talent yet to be discovered.
Bayberry Music, located at 23420 Woodward Ave., primarily only stocks acoustic stringed instruments – from guitars to ukuleles, banjos to violins – but also carry accessories for acoustic and electric. The location also performs repairs on stringed instruments.
THE OWNERS DON'T NECESSARILY COME from a musical background, but life took them down a path where music became an integral part of their existence, including making and repairing stringed instruments from their basement before opening their store.
Pursell, who grew up and lived in Illinois before moving to Michigan, obtained a degree in engineering. He moved to Michigan with the thought of working for the Big Three in the early 2000s, but work in the auto industry was not easy to get into during that time. So, his brother, who was working at a violin store, offered him a job.
"[My brother] said, 'You like woodworking, come work for us,'" said Pursell. "I happened into it, which led to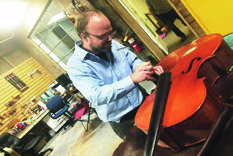 here – I found a passion for it and I never looked back. I started making instruments out of my house 11 years ago, while I was working there."
Pursell was talking with his friend VanderLinde about making ukuleles, and VanderLinde took an interest. From there, an online music store came to be with both working out of their basements.
VanderLinde, who has a degree in computer science, fell in love with music, and his sales and business expertise made it a perfect fit for the two to go into the stringed instrument business.
"I love playing guitar, and I built my first ukulele with Andy," said VanderLinde. "After that I was hooked. [Before Bayberry Music] I had some office jobs and it didn't feel right. With Bayberry Music, everything fell into place. I get to build a little and sell a little, and still do some computer science.
AFTER HAVING AN E-COMMERCE STORE for roughly five years, the demand they saw for instruments, re

pairs and accessories was growing. Moving to a brick-and-mortar location was natural. And Ferndale was a perfect for them.
"Ferndale is fantastic, and we love it here and we love the community," said VanderLinde. "It is a big change from working in the basement by our-selves all day. We love seeing new faces walk through the door every day."
With their mindset of music being powerful and important for everyone, they not only offer stringed instruments at different price points, but they also are giving back to the community by helping organizations, like Detroit Youth Volume, by performing repairs on their instruments.
"We love music. It bridges the gap of classes and culture and it is a peaceful thing that everyone can get behind," said VanderLinde.
"Our sole mission is that music should be easily accessible to all people," said Pursell. "People should be able to get a good, quality instrument for themselves, or for a child to learn to play on."
To contact Bayberry Music, you can visit their location, call 248-439-0700 or visit their online store at www.bayberrymusic.com.