Science for Sociopaths : Interview with Maggie Cocco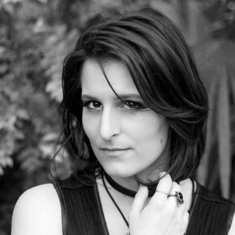 SENDS MUSICAL MESSAGES OF HOPE & CATHARSIS
Story by Jeff Milo
Interview with singer/songwriter Maggie Cocco
SINGER/SONGWRITER MAGGIE COCCO RECORDS AND PERFORMS UNDER THE MONIKER "SCIENCE FOR SOCIOPATHS," and she realizes that hearing that phrase "…might scare some people." But it's an integral part of her story and she wants anyone out there listening who has a similar story to not feel alone.
"I used to be afraid to tell this story," Cocco said. "It's not that I'm saying: 'Hey, pay attention to me.' It's that it's so powerful to meet somebody else who's been through something traumatic. That's how my producer (Benjamin Warsaw) and I first connected, because he had a similar story and said that he just wanted to be a part in creating music that speaks to this experience."
Cocco is already a professional, even at 27. She's been playing music from a very young age, and has been a lifelong writer (first poetry, then songs). She was raised in Sterling Heights, listening to classic rock, Motown and some of the heavier alternative groups of the '90s. She played the viola between sharpening her lyrical sensibilities with poems, but went to study classical music at Oakland University. She started making an impression around the local music scene by the age of 22, but says she really came in to her own only recently, and blossomed, with Science for Sociopaths.
Cocco said her father, also a musician, exhibited ostensible sociopathic behavior as her manager when he instituted a 'pop-star-or-bust' level of expected perfection. Circumstances were exacerbated enough to where Cocco struck out on her own, three years ago, and has since developed her own solo career—writing a blend of blues, Americana-rock and jazzy folk ballads that are radiant but raw, presenting beautifully melodic odes of unvarnished truths that tap into experiences that could be specific to her yet nevertheless create an empathic and relatable response from a listener.
"I'm not over-assessing my writing, like before, wondering whether it's commercial enough or not," said Cocco. "I used to feel really isolated, like no one has gone through this particular life experience. All the stuff I've gone through might not be universally relatable, but it is to some people on a deeply personal level. It's not going to be fun-time dance music, but it's relatable and I see a lot of value in that. That's the music I'm drawn to, anyway."
Cocco is newly inspired. She's constantly working on material; she released two EPs earlier this summer and already has a full set of songs for another album after that. What's changed, said Cocco, is that she's receiving positive encouragement. The musicians she's working with now, along with Warsaw, "respect me as a songwriter and I'm feeling very encouraged. After my Dad, there was a period where I didn't trust anybody… But I've realized there's a ton of really great people out there who are just passionate (about this music) and offer to help, and that just makes me want to try my best, because I want to be worth it."
The intention, above all, is catharsis. Writing and performing her music and sending these lyrical messages is one unique way in which Cocco can make a difference. She's been able to impact the lives of others through other outlets,like teaching and volunteer work, but she can't ignore the potential that her music has to reach people; people who might be in dire need of receiving a message of hope.
And even though the name of the project might put some on edge, Cocco knows that it will nevertheless draw an audience. She said she was done trying to be a pop star and appeal to everyone. Now, she's writing down, recording and releasing whatever comes to her and putting it out there so that it can be found, so that it can speak to someone, rather than fixating on reaching everyone.
Cocco set up a Patreon to create an online community for fans of Science for Sociopaths, including exclusive access to her new releases. Her output continues to accelerate—she's been delivering a new song each week to Patreon supporters online (which could be a new single, a new cover, responding to a special request, or just jamming with other artists).
Science for Sociopaths performs August 17 at PJs Lager House. After, she'll be leaving for a patron-sponsored week-long tour in Ireland (Sept 3-10).