Home
Uncategorized
Finding Her Own Voice: Ferndale Resident Amy Saari Releasing Album
Finding Her Own Voice: Ferndale Resident Amy Saari Releasing Album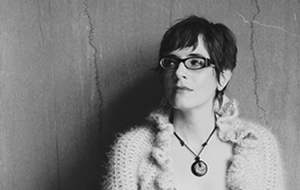 Stepping up to a microphone for the first time can be daunting. Especially when the material you plan on performing happens to be 100 per cent original.
"I sang in high school, but I really didn't share it with anyone," Amy Saari says. "I was never brave enough to perform my own songs in high school and college." It took the Ferndale resident a long time to realize what she is: a performer. And now she's got her very own album to show for it.
Saari, who owns SoundSorceress Studio in Ferndale and offers both singing and beginning piano lessons, has been playing piano since she was about five years old. "I did not have the patience to take lessons," she says. "I would start, quit, start and quit." As she got older, a newfound confidence began emerging. "I kept writing, and through some life changes, I was finally able to get the courage to perform," she says.
"It took me a long time to see myself on stage and be a full-on performer."
When she started performing in front of an audience, the fact that Saari plays keyboard made for some early challenges. "Being a keyboardist, it was tough getting out on open mic nights," she says. "Most people play a guitar at open mic nights. It's challenging to bring a keyboard up there." But she took the stage again and again, gaining confidence the whole while and honing her unique style.
Saari released her first CD on Saturday, Nov. 16 at a private release party in Ann Arbor. The CD, entitled We Are Love: Metaphysical Piano Bar, consists of three songs featuring just Saari, her voice and her keyboard. The other three selections on the album feature Saari, Michael Brown on drums, and Kevin Nowak on upright bass.
What's the trio's music sound like? "The feel of the band is like a little bit of soul, and a little bit of funk," Saari says. "I decided to call it Midwest soul. It's kind of piano bar music with a Motown soul influence."
Saari has drawn comparisons to Carole King. Some of her influences, she says, include John Mellencamp, Alicia Keyes, and early Tori Amos. Influences aside, though, Saari's style is totally her own. "I'm not trying to sound like I'm on Valium," she says. "I want to sound like I'm alive."
Saari said she met Brown when she was performing at Spiritual Life Center in Ferndale, where he was also performing. "He just got my music," Saari says. "He could easily play with me. He listens very well."
People started asking Saari: "Have you recorded anything yet?" Once she joined musical forces with Brown and then Nowak, she decided the time had come to lay down some tracks in the studio. The trio entered Fifty-Four Sound in Ferndale, and We Are Love: Metaphysical Piano Bar is the result.
The trio is playing on Jan. 5th at St. Michael's Episcopal Church in Grosse Pointe Woods at 3 p.m. as part of the Music in the Woods concert series to raise money for the restoration of the church's historic E.M. Skinner Opus 705 organ.
After this, the group will play at the Black Lotus Brewing Company in Clawson on Jan. 25 at 9 p.m.
For more information about Saari or how to purchase her album, or to inquire about taking singing or beginning piano lessons, visit soundsorceress.wordpress.com, e-mail Saari at soundsorceress@yahoo.com or call her at (248) 467-4966.
If some happened with our soundness, we believe there is a solution to any maladies in a preparation. What medicines do patients purchase online? Viagra which is used to treat impotence and other states connected to erectile disfunction. Learn more about "sildenafil". What folk talk about "viagra stories"? The most essential aspect you must look for is "sildenafil citrate". Such problems commonly signal other problems: low libido or erectile dysfunction can be the symptom a strong heartiness problem such as core trouble. Causes of sexual disfunction include injury to the penis. Chronic disease, several medicaments, and a condition called Peyronie's disease can also cause sexual disfunction. Even though this physic is not for use in women, it is not known whether this curing passes into breast milk.