Ferndale Youth Assistance Kick Off Annual Adopt-A-Family Christmas Program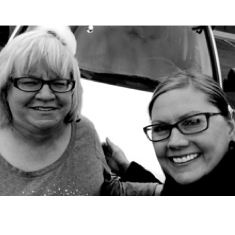 By Malissa Martin
WITH CHRISTMAS JUST AROUND THE CORNER, it's heartbreaking to know that not every child will be a part of the celebration. However, for the past three years Fern-dale Youth Assistance (FYA, located inside Ferndale High School) has been changing that with their Annual Adopt-a-family Christmas program. Caseworker Tasha Hanson and office manager Melinda Hicks coordinate the program, which already has five families in need this year.
"Families come to us. They're struggling financially. They can't even get food on the table for the day, let alone think about Christmas," Hanson said. So FYA pitches in to help by connecting them with volunteers who have agreed to "adopt" a family for the Holiday season. Once families are selected, the children fill out a wish list form provided by the FYA. Only kids receive wish lists; however, sometimes Hicks and Hanson will also purchase a small, thoughtful gift for the parents.
When a family agrees to adopt a family in need, they are given the wish list to use as a guide. "We ask if they need a jacket, boots, gloves. We want to make sure they're dressed for winter, and then they give us their wish list and sizes. We usually get all of them socks and underwear." Hicks said.
Hicks enlists local families and individuals to adopt families in need for Christmas. Groups can also volunteer. A local running group has adopted a family every year since the program began. The Police Department, the Courts, and City Hall have also adopted a family.
To help purchase items for the program, the FYA has included a budget of $4,000 to use for Christmas, and as an emergency fund. Last year the program provided Christmas for 38 kids and Hicks is expecting 45-to-50 kids this year.
THE CHRISTMAS PROGRAM IS JUST ONE OF THE MANY WAYS the FYA is striving to serve youth and their families. The FYA has two facets: The casework side and also the community organizational side. Hicks is the go-to person for all the planning and programming at FYA. The Oakland County Circuit Court funds Hanson's salary as the caseworker. The school district provides the FYA space and also provides some funding as well. Finally, Ferndale and Pleasant Ridge provide monetary donations, as well as the community members.
Having their office located inside the high school makes it easier for Hicks to connect with the youth. "Community members – usually the school district, social workers, principals, assistant principals – make referrals of kids that are struggling. Then I meet with them on a short-term case basis and get them to where they need to be for counseling or groups or whatever they need. So, short-term casework services for kids who are struggling with things like death, dying, bullying, anxiety (and) depression," Hanson said.
Being able to provide kids with toys on Christmas is a blessing, and it's also Hanson and Hicks' favorite part of the job. They've both lived in Ferndale for years, Hicks all of her life. Providing services for youth is their way of giving back and continuing the tradition of making Ferndale a great place to live.
To adopt a family this Christmas, contact Hicks at (248) 586-8700 or email melinda.hicks@ferndaleschools.org.