Satori Circus : Defining Detroit Performance Art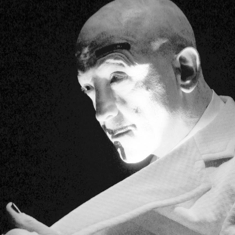 By David Ryals
THIS YEAR, RUSSELL TAYLOR – AKA SATORI CIRCUS­ celebrated his 30th anniversary as Detroit's premier performance artist. His performance persona has musical roofs, and has evolved info one of the most dynamic and creative solo acts in Detroit history. Taylor spoke with Ferndale Friends to talk about the entire span of his career.
"I had been in a punk art band in Detroit called Fugitive Poetry, and we were doing unusual things on stage that we tied into our music. There were a few groups doing wacky things, but I think we stood apart primarily because we pre-recorded our music and acted out the little stories we created to coincide with the music. Singing all vocals live. We were a three-piece at that time. This was 1983 to about 1986.
"One of the fellows in the group left shortly after we released a full-length album. So, we delved deeper into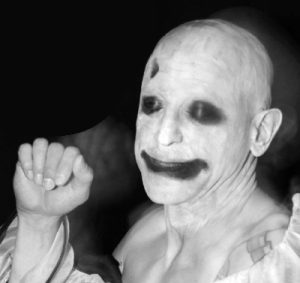 what we could do as a two-piece with pre-recorded music and props and character sketches. All performed live. About a year later, my dear friend in the group, Rick Maertens was diagnosed with bone cancer. So we retired Fugitive Poetry. I think our last performance was Spring of 1986, in Windsor. Rick and I were living together at this time and his fiance and myself, along with Southeast Hospice, we all took care of him.
"ABOUT A YEAR LATER, I was getting restless and started writing things on my own while Rick worked on a book of his short stories and poems. Once I started to collate material, I asked for his feedback. It started to really come together and make sense to me. Rick was a great friend and brother, and was instrumental in pushing me. Even the name Satori Circus is part his, really. Satori is a zen term meaning pure illumination, pure truth. Perfect for what I was writing or how I wrote, and followed suit of what Fugitive Poetry had begun.
"Circus: Growing up in parts of Detroit and certain parts of Dearborn, my life was always a circus. My family was a free group of folks, most importantly my mom. It was never a dull moment, from folks fighting at wee hours of the morning, to fires being set by vigilantes on crack homes, to sex workers servicing their johns outside our side windows. So yes, it was a circus.
"Rick finished his book and, if memory serves me, he passed away from the cancer about a week later. He was barely 25, and two weeks later Satori first hit the stage."
LOOKING BACK ON THE LAST 30 YEARS IS ASTONISHING. Any performer who has lasted this long, let alone evolved constantly, has a few tricks up their sleeve. Taylor talked about his evolution and where it has taken him.
"Satori Circus has evolved on so many levels, it blows my mind. It started out being so simple and self-contained. Now I work with a few folks to make things happen. Granted, it's not this huge ensemble that travels around with me, but it's miles away from where I first began. Over 30 years, I have managed to perform for all sorts of adult audiences in the macabre, fetish, drag, cabaret scenes, and with bands and orchestras. Something I never saw coming. And I've even done a few children's shows. I still do things myself, and explore thrift store and dollar stores for props and costumes. I feel you just don't need that big of a budget to make groovy things and I'm pretty sure it won't stop! I love that aspect. Simple.
It's not just his performance that has changed; the entire Detroit performance artist scene has shifted over time. Russell talked about how other artists helped him change, and vice­ versa. "When I started, Detroit was barren of wild performance-type stuff, with the exception of some very cool dance parties and drag events going on around town. Mostly in places you wouldn't want to wander about solo. There were some bands doing some very wonderful dark performances. And a handful of other performers crossing borders and challenging themselves as artists. But not a lot. I think I can safely say that it 1988 to about 1998, Satori Circus was kind of it."
"I then left Detroit for a few years in 2001 to come back in 2005 to find circus, aerial, fire, cabaret, burlesque and others forms of time­ movement based arts sneaking into the bigger community's fabric. It was amazing. It's always wonderful to see so much stuff going on. So much talent exploding. Did it affect my work? A little I'd say. But I'm my biggest motivator. I'll do whatever it is that I want or can do. I just keep searching. Keep picking up rocks to see what's underneath. I don't think I've ever waited for something to happen."
His plans for the future are no less ambitious, "I plan to take on the world. To show folks that things can happen. Things can be done no matter where you're from or who you are, or how old you are. I'm not a youngster by any means. And I ain't going to stop. Not ever, if all goes well. My goals are to do more throughout the U.S. Canada would be awesome as well. And, of course, Europe. It's going to happen.