Ferndale Front Porches Become Center Stage : Outdoor Music Festival
By Jeff Milo
What better way to get to know a band than in a cozy, domestic setting like a front porch? Michael Benghiat and Gary Graff's vision of more than two dozen Ferndale homes hosting a diverse lineup of more than 30 regional bands is coming to life on Saturday, June 24. This six-hour suburban music festival is called The Front Porch, and it doubles as a prototype, or pilot program, for what could turn into a regular television show (of the same name). The concept has been pitched to Detroit Public Television (DPTV, Detroit's PBS affiliate) already, and could be shopped to other media outlets as well.
Benghiat, head of Front Porch Productions and founder/CEO of Optimum Marketing, has been a lifelong music fan. He has vast experience in event-planning, marketing and communications in the global entertainment industry, most notably with Olympia Entertainment. Graff, meanwhile, is a venerated local music journalist who's byline and features regularly appear in The Oakland Press. When they went to the Ferndale City Council and special events committee to present their idea for an afternoon's worth of outdoor musical performances situated upon Ferndalian front porches for a strolling audience of neighbors, families and music lovers, the response was more than enthusiastic!
"We thought it'd be really cool to be a part of this because we've played many stages, but never a front porch," said Carrie Shepard, singer/guitarist of local country/rock quartet The Whiskey Charmers. "Plus, Ferndale is just a town that really supports live music. Hanging out on a front porch, playing some of our songs in such a relaxed setting, it's bound to result in a cool, unique vibe!"
"I think it definitely compliments the overall vibe that is 'Fabulous Ferndale,'" said Joshua James, the multi-genre-specialist and leader of string-band/Dixie-jazz outfit The Ashton Neighborhood Pleasure Club. "We're a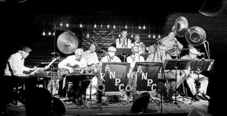 very connected neighborhood; residents really embody that motto of 'Good neighbors,' and I think something like (The Front Porch) could be the perfect catalyst to strengthen the community. Having been to Jackson Square in New Orleans where everyone is out playing music, I can say that having something like a porch concert is going to be a lot of fun."
Something similar to the schema of Benghiat and Graff's citywide concert has been achieved in other markets, with great success and an expectedly enthusiastic response from residents. Various Porch Fests are featured in up to 50 communities around the country, but Benghiat's idea is to develop this into a TV show where he and Graff can travel to several cities all around Michigan where they can film vibrant, music-packed portraits of that area's local artists, interviewing bands on front porches and filming live performances. DPTV loved Benghiat's idea, but they requested a pilot episode first, before they decide on whether or not they'd like to produce a full season of episodes.
That makes Ferndale's June 24 Front Porch Show the possible precursor to a future television show. Benghiat arranged for a film crew to capture each performance and prepare a feature-length package to DPTV and other channels of distribution. After that, fingers are crossed! Benghiat hopes to know by mid-Autumn whether or not The Front Porch can start stepping it up!
Meanwhile, mark your calendars for June 24! And get your maps out! North of Marshall, east of Central, South of Maplehurst and west of Livernois! You're going to find up to 25 houses in that square of sidestreets hosting 35+ local bands, including The Luddites, The Codgers, The Corktown Popes, Brother Hallow, and many more!
For more information, visit facebook.com/pg/frontporchmi