Home
Art & Music
Brews, BBQ & Bourbon : Ferndale Adds More Celebration to Summer
Brews, BBQ & Bourbon : Ferndale Adds More Celebration to Summer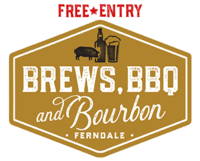 By Adam O'Connor
JUST BEFORE THE DOG DAYS OF SUMMER REALLY SLAP METRO DETROITERS IN THE FACE, FERNDALE HAS FOUND YET ANOTHER REASON TO CELEBRATE.  AND WHAT DO PEOPLE LOVE MORE THAN GOOD BBQ WHEN THE WEATHER'S NICE?
Well, a few things they love just as much happen to be as good booze, great beer, and outstanding music. Fortunately, the newest Ferndale summer festival provides exactly those things – and more.
Bruise, BBQ & Bourbon – produced by Ferndale's  own Ultimate Fun Productions and The Social Connection – kicks off it's inaugural celebration in the summer the weekend of June 16–18. The festival will take place down the main thorough fare of East 9 Mile Road in Downtown Ferndale.
The weekend will feature two stages of continuous music – one acoustic and one main stage – featuring the likes of local and regional acts like George Morris in the Gypsy Chorus, Ryan Delilah and the Miracle Men, the Whiskey Charmers, Dan Tillery, Alise King, Tosha Owens, Tripp N Dixie, AwesomeR, and Flint's one man band Sweet Willy Tea amongst others.
The event will also feature everyone's favorite festival foods – definitely focused on BBQ, but also offering up a smattering of other items for those who don't partake in summertime's grilled and smoke treats. Local BBQ purveyors Smoke Ring BBQ, Detroit BBQ company, Stonewood Smokehouse and more will be joined by the other great Michigan BBQ slinging champs like Lansing's The Smoking Pig and Hollands Hogwild BBQ. Some pit masters (such as Smoke Shack) will be coming from so far as Columbus Ohio – and they will undoubtedly be more announced.
An abundance of craft beer will also be present, as well as a varied choice of booze – from smoky bourbons to aged whiskey's and more. There will even be a Moscow Mule tent featuring every type of Mule variation you've heard of – and some you haven't – such as the Mexican Mule (tequila, ginger beer and lime juice), Gin Gin Mule (gin, ginger beer, lime juice) and Cider Mule (vodka, ginger beer, hard apple cider, and lime juice) and a bunch more! Further, Cocktail Creations is your destination to sample a variety of classic newly-conceived summer cocktails if Moscow Mules aren't your thing. And finally, if you were hoping for a great selection of bourbons you won't be disappointed by the offerings on Bourbon Boulevard.
There will be all-ages fun as well, offering games, the kids zone face painting, Michigan's favorite backyard past time of cornhole and tons of more wholesome and family friendly entertainment for anyone who feels like bringing themselves out to the free event
The event takes place on Friday, June 16 from the hours of 5 pm until Midnight; Saturday, June 17 from Noon until Midnight; and Sunday, June 18 from Noon until 10pm.
Further information and festival updates are available at brewsbbqbourbon.com or by visiting the event's social media (you can even entered to win a free slab of ribs!).