Detroit Fleat : Food Truck Park & Boozery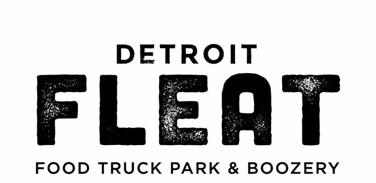 Story By Maggie Boleyn
Photos By Bernie LaFramboise
SAY "FOOD TRUCK" TO PEOPLE OF A CERTAIN AGE, AND IT WILL PROBABLY CONJURE UP VISIONS OF TIGHTLY-WRAPPED MYSTERY SANDWICHES, OR CORN DOGS AND COTTON CANDY AT THE STATE FAIR. THAT IS SO LAST CENTURY. TODAY'S FOOD TRUCKS ARE MORE OF A "MOVEABLE FEAST," AND DEFINITELY NOT YOUR GRANDFATHER'S FOOD TRUCK.
Food trucks are a growing trend. In fact, according to the Food Liability Insurance Program (FLIP), an online insurance program which caters to the insurance needs of the food distributing industries,"food trucks are driving a healthy trend and steering people towards local, sustainable, and organic foods."
FLIP reports that mobile food businesses report a 9.3 per cent increase in revenue since 2010. In 2015, the mobile food industry was valued at $856.7 million and that number is expected to increase another $130 million by 2019.
And, it looks very promising that, come this summer, the East Side of Ferndale will be helping to fuel that trend. "Detroit Fleat," a food-truck-themed eatery, will launch on the site at 1820 E. Nine Mile near Wanda Street, which originally housed Wing Hing Inn.
"We are moving along nicely, and the place is looking great," says Aaron Tye, owner of Delectabowl Food

Truck and Catering, and the driving force behind Detroit Fleat. Tye said construction started "the day we closed on the property," back in February of 2017.
"We are excited to bring some great food to the East Side of Ferndale," Tye says of his plans for Detroit Fleat. "We know that the options are limited on that side of town and by bringing in private owned food trucks that specialize in respected cuisines, we are confident that everyone can find something they like."
The Detroit Fleat concept envisions several food trucks at the Nine Mile location. Tye explains, "We will have a few of the top food trucks in Metro Detroit on a semi-permanent basis, and also a rotating truck slot to keep things interesting."
Having several food trucks means that customers will be able to enjoy a variety of choices, Tye says. "The great thing about eating from gourmet food trucks is that they keep their menus limited to a few items to
what they do best. Rarely do you find a restaurant that specializes at everything on their menu. But you are able to do that by having multiple food trucks. Tacos, BBQ, comfort food, Mediterranean, burgers are just a few menu items that you will see between the trucks at Detroit Fleat."
Tye, a former Ferndale resident, had been looking for a spot for a food truck court for some time before selecting the Nine Mile location.
"We started looking for a more permanent location for food trucks a few years back when we launched our food truck, Delectabowl," he said. "We have always kept our eye on properties in Ferndale due to the community and the city's willingness to work with food trucks and try new concepts."
Tye adds, "We will have a year-round house menu featuring some street food favorites along with a full craft cocktail and beer bar. Our space will be great for private events and pop ups. Detroit Fleat will also be a great resource for anyone looking for info on booking food trucks for private events which has been a growing need between event organizers and food trucks."