Downtown Doggie Detour: Dog Stop Deluxe
Story by Ingrid Sjostrand | Photos by Bernie Laframboise
Dog owners know that walks are a non-negotiable part of life. Everyone has their favorite routes, and a lot of factors go into making a successful stroll. Forgetting to bring bags to clean up after your pup or an unexpected hot day making your hound dehydrated can leave everyone suffering, or even cut a walk short.
Changing up your route just might relieve you of all your dog walk woes. Ferndale residents should consider taking their pooch down Allen Street where one homeowner has turned her fence into a deluxe dog stop.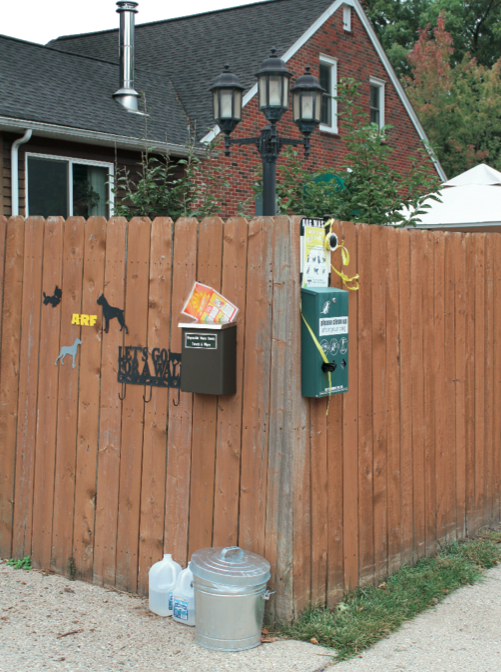 Located at the corner of Allen and West Hazelhurst, owner Julie Miron has provided everything walkers might need to make their dogs happy. Waste bags and a trash can, disposable bowls and water, notices about dog health and yellow ribbons to warn of unapproachable dogs are some of the things you might find there.
"It just seemed like a nice thing to do," Miron says of the station. "Allen Street has a lot of dog walker traffic, and I saw the bag dispenser posted online and thought it was really cool."
Miron spread the word about her work by posting photos to the Ferndale Forum Facebook group. She received immediate positive feedback and over 113 "likes" on her post. Many members commented thanking her for her generosity.
A lifelong animal lover, Miron has been involved with the Michigan Anti-Cruelty Society for 25 years and is the owner of two Flemish bunnies and two dogs – a bloodhound and amastiff/Rottweiler mix. Miron walks the bunnies more than the dogs, which she describes as "socially challenged." This might have been the inspiration for the yellow ribbons.
"Some dogs aren't as approachable, so the yellow ribbon is for them and the posters are to help inform the other walker," Miron says.
These yellow ribbons caused a lot of discussion within the Ferndale Forum and helped teach many dog owners and residents something useful. Forum member Stevie Hayley sparked the discussion with a photo of Miron's dog station and the question: "Does everyone know what the yellow ribbon is for? Thank you neighbors, this is very kind."
Everything Miron has posted or available at her dog spot is meant to inform residents and enhance a dog's walking experience.
"Disposable bowls are extra precaution against canine influenza," Miron says. "There is a heat PSA also, and a friendly neighbor made the dog cut outs there."
As winter approaches, Miron has no plans to take down the dog station, only improve it with seasonally relevant information.
"Probably no water, unless I put out my heated water dish and maybe a PSA about salt on dog paws," she says of the things she might change.
Miron encourages neighbors to stop by and check out the dog spot; a Ferndale resident since
1989, she is no stranger to the attention. She says she used to get noticed for her impressive Halloween displays and recently on the Ferndale Forum.
"My neighbor and I joke about who is trending more on the Forum. He lives at 1000 Allen, and everyone thinks it is a wine store. People constantly stop to chat, and it used to be Kellehers Market in the old days," Miron jokes.
If some happened with our health, we believe there is a solution to any maladies in a cure. What medicines do patients purchase online? Viagra which is used to treat impotency and other states connected to erectile disfunction. Learn more about "sildenafil". What folk talk about "viagra stories"? The most substantial aspect you must look for is "sildenafil citrate". Such problems commonly signal other problems: low libido or erectile disfunction can be the symptom a strong soundness problem such as heart trouble. Causes of sexual dysfunction switch on injury to the penis. Chronic disease, several medicaments, and a condition called Peyronie's disease can also cause sexual disfunction. Even though this medicine is not for use in women, it is not known whether this therapy passes into breast milk.