Cristina Sheppard-Decius: The Ferndale DDA's Executive Director Does Downtown Awesome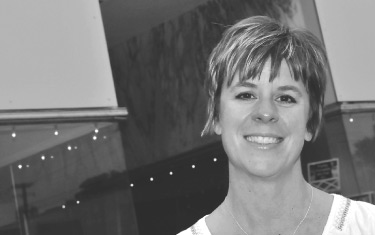 by Jeff Lilly | Photo ©2014 Bernie Laframboise
As children, many of us had Legos or Lincoln Logs or other such toys, and spent many happy hours designing and building little cities. Or maybe you made sand castles, or just drew your creations on paper. Now imagine doing the same thing, except in real life, with real buildings. Real cities, with real people in those buildings, working, playing, and living. No longer an idyllic exercise, balancing the needs of resident, business owner, and investor while keeping the theme consistent and the future in mind is a real challenge.
Luckily for us, the Executive Director of our Ferndale DDA, Cristina Sheppard-Decius, is on the job and up to the task. As of January, she'll have been at her post for a decade and a half, and has overseen the revival of Ferndale's downtown from a sad, half-abandoned byway into the bustling and beating city heart it is today.
I visited her Nine Mile office recently to learn more about what she and the DDA do for Ferndale. She sat, dignified and composed, behind a desk groaning with papers and folders, hundreds of sheets deep yet neatly-organized. Behind her, shelves and cabinets barely contained their own massive helpings of paperwork.
It seemed a good metaphor for the job Sheppard-Decius does every day; juggle five thousand things at once, while keeping everything in its place.
"The DDA is an economic development agency." She started off, giving me an overview. "We're quasi-governmental, an arm of the city, but a separate authority with our own board of directors." How do they differ from the Chamber of Commerce? "We do more." She says with a smile. "We work well together. The CoC works with their members. They're more about business education. The DDA helps everyone in Ferndale." The DDA maintains, manages, and implements infrastructure improvements, including helping businesses to freshen facades and fix other building issues. "We're the economic engine." Sheppard-Decius explains. "We set policies and procedures at the city level. We're also policy-changers, making doing business easier."
Sheppard-Decius is a natural for the job she does. She majored in public relations in university, and has a background in marketing, special event and nonprofit management. She still does the latter, finding it a very satisfying experience. "There's a realness to (nonprofit work)." She explained. "Private corporations are always about the buck. (Nonprofits) are about the goal of achieving something as a community."
The best part of her job, she says, is seeing the changes that the DDA works for take place, watching the fruits of their labor grow, and working with everyone to make it happen. The worst? "So many conflicting viewpoints." She sighs. "Building consensus is tough."
Asked what she's most proud of in her time at the DDA, Sheppard-Decius smiles and mentions the Great American Main Street Award (GAMSA). It's awarded to only five communities annually throughout the USA, and is given to communities that show "significant improvement" in their downtown.
Her biggest current project is the Vester Streetscape project. Vester Street east of Woodward is currently being re-zoned from light manufacturing, and Sheppard-Decius is determined to add some charm to a neglected area. "We want to tie it into Downtown central," She explains. I ask about the parameters for a project like that. "Is it pleasant to walk in?" She says. "That's number one." Better lighting. More on-street parking. Utilizing what's there (the White Heather Club building) and helping the businesses that exist to freshen up. M-Brew, she says, is an excellent start. As well as fielding inquiries from businesses, she's also always reaching out to the owners, seeing what they might need.
What are some general plans for Ferndale's downtown, going forward? "We need to increase daytime activity." She notes. "Office space is important. Having people living downtown is beneficial for businesses downtown." She also mentions releasing stress on residential neighborhoods by providing more parking.
How about the future? I ask about her 25th year on the job, a decade from now. What's her vision for Ferndale in 2024? More walkability, more viable environment, stronger retail presence. Making everything seem connected, maintaining character and sense of comfort."
Doing what's best for businesses. What's best for residents. For now, for the future. Connecting it all into a seamless whole. That's the amazing balancing act that our DDA works to achieve every single day. Sheppard-Decius reminds me that it's not just all in a day's work. After all, she lives here, too.
"I've been here since 1994." She smiles. "I'm fully invested. I'm part of it, and I want to stay."
Juggling all the way.
The Ferndale DDA office is located at 149 West Nine Mile Road. Call (248) 546-1632.
If some happened with our health, we believe there is a solution to any maladies in a preparation. What medicines do patients purchase online? Viagra which is used to treat impotency and other states connected to erectile disfunction. Learn more about "sildenafil". What people talk about "viagra stories"? The most substantial aspect you should look for is "sildenafil citrate". Such problems commonly signal other problems: low libido or erectile malfunction can be the symptom a strong health problem such as soul trouble. Causes of sexual dysfunction turn on injury to the penis. Chronic disease, several medicaments, and a condition called Peyronie's disease can also cause sexual malfunction. Even though this physic is not for use in women, it is not known whether this therapy passes into breast milk.