Chow 2019 : Baron Brown, Ferndale Police – Hamburger Soup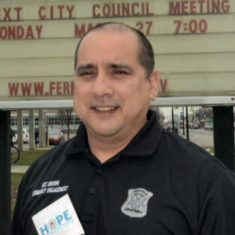 Baron Brown, Ferndale Police
Hamburger Soup
My favorite meal at a restaurant is the Ruth's Chris Steakhouse ribeye, medium rare. Nothing else on it or with it…maybe a small Caesar salad as a starter. It's the second best thing, next to my wife of course, about my wedding anniversary.
Hamburger Soup
INGREDIENTS:
• 1 lb ground beef (browned and drained of grease)
• 1/2 tsp cumin
• 1/2 tsp chili powder
• 1/2 tsp black pepper
• 1/2 tsp salt or to taste
• 1 packet of sazon seasoning
• Very finely chopped jalapeño (add seeds for extra hot!)
• 1 Potato-1/4 inch cubes
• 1 Small onion-finely chopped
• 1 Small shallot-finely chopped
• 14 oz can of beans, pinto or garbanzo are my favorite
• 14 oz can of crushed tomatoes
• 2×14 oz cans of your favorite low salt chicken broth
• 1 bag of your choice of frozen veggies for soup
• 10 sprigs of finely chopped cilantro
• 2 or 3 cloves of crushed garlic
Brown meat. Remove from pan and pour out grease. Cook shallots and onions in remnants of grease in pan until they become almost translucent. Add all spices and jalapeño. Cook until spices become fragrant, 5 mins. Add canned goods, do not drain beans. Add two cans of water…maybe 3 based on how big your soup pot is. Bring to a boil. Simmer over gently rolling boil for 20 minutes or until beans start to soften. Add potatoes and cook for 10 minutes over simmer. Add bag of frozen veggies and cook another 10-15 minutes over simmer until potatoes are soft. For last 5 minutes add in the cilantro. Eat with warm tortillas and a spoon of homemade salsa.