Spaulding & Curtin Funeral Directors : Nearly A Century of Service in Ferndale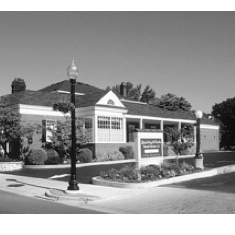 Story by Maggie Boleyn
THE AMERICAN ACADEMY OF ESTATE PLANNING ATTORNEYS SAYS, "Most folks are so afraid of death, by extension, they are afraid of the people who are there to help when there is a death in the family."
Ferndale and surrounding communities have nothing to fear. "We are honored to serve our community," says Kelly O'Meara, who serves as business administrator of Spaulding & Curtin Funeral Directors. He is the son-in-law of Patrick Curtin. He and his wife live nearby.
"Funerals and memorial services are for the living," said O'Meara in an email. "We are here to help navigate a difficult and stressful time. Our caring and compassionate staff aims to personalize each family's experience to ensure their unique needs and wishes are met. We hope when family and loved ones enter the funeral home, they feel welcome and at home."
Spaulding & Curtin has been in business for more than a century, serving Ferndale and surrounding communities for 91 years. A four-generation, family-owned-and-operated funeral service firm, Spaulding & Curtin has been at the present location on Nine Mile Road since 1939.
The history of Spaulding & Curtin is one of continuous service. The original founder, Verner Spaulding, entered funeral service in 1905 in Buchanan, Michigan. He moved his business to Rochester in 1911, where he operated an undertaking and furniture establishment until moving to Ferndale in 1927.
Verner Spaulding and Albert Steinbaugh operated a funeral home on Vester Avenue until 1938 when the firm became Spaulding & Son. In 1939, Verner and his son, Merton, moved the operation to their newly constructed facility on the present site at 500 West Nine Mile Road. This location is said to be the first funeral home built as such in Oakland County.
ACCORDING TO THE NATIONAL MUSEUM OF FUNERAL HISTORY, in Victorian times, funerals mainly took place inside the family home. The deceased person was displayed in the front parlor. During the early 20th century, funeral service practitioners began establishing funeral homes, where bodies were transported and prepared for funeral services. During this time, front parlors became known as "living rooms," because they were no longer used to display the dead. Michigan is one of nine states that no longer allow families to conduct funeral services in a non-funeral home.
In 1960, Merton and son-in-law, Patrick Curtin, who was born and raised in Ferndale, formed the partnership Spaulding & Curtin. Kevin Curtin, Patrick's son, Merton's grandson and Verner's great-grandson, joined the firm in 1984 and eventually became the managing partner until his death in 2007. The funeral home continues to be owned and operated by the Curtin Family.  Kevin's wife, Patricia, currently owns the business and resides within the Ferndale area.
"Externalizing grief helps people deal with their loss. Funerals are important because they allow the grieved to be supported by their friends and family during what is often the most difficult time of their lives. Funerals also celebrate the life a loved one. The sharing of stories and memories allows us to see how our loved one touched other's lives," says O'Meara.
One trend in funeral services is pre-planning. "Pre-planning ensures an individual's wishes are known and fulfilled at the time of their funeral," said O'Meara. "When pre-planning is pursued with family members input, valuable conversations take place before the event of death. This relieves stress on those left behind."
O'Meara is mindful of the responsibility to the community, and appreciates the loved ones who need his services. "We know that families have choices when choosing a funeral home, and we value our clients' trust when choosing Spaulding & Curtin," he concludes.