By Ingrid Sjostrand
THE HAZEL PARK CREATIVE ARTS ORGANIZATION IS DETERMINED to give students access to quality art education and they have made impressive strides in the little over four years they've been in operation.
Since late 2014, the 501c3 has raised over $25,000 for supplies and equipment for K-12 students in Hazel Park schools. This includes replacing the high school's pottery kiln in 2016 and their auditorium's lighting console in February 2018 – just in time for the annual school play.
President Mike Vanderveer says the group was inspired to create Hazel Park Creative Arts after realizing there was a booster group raising money for the high school band, but the other arts programs were lacking funding.
"We want the school arts programs to continue at their highest possible level, especially with the current financial state of schools in general, and particularly the Hazel Park district," Vanderveer says. "That's why we

took on projects like replacing the 30-year-old pottery kiln in the high school. We firmly believed at the time that had we not done so there might not be a ceramics program in the school in the future. We're still of the same opinion to-day, not only in ceramics, but in many of the art programs within the district."
Vanderveer leads the volunteer board of four members, which includes Vice President Bethany Holland, Secretary Lisa Chrouch-Johnson and Treasurer Robbie Webb. All money raised by the group comes from their extensive fundraising efforts. This includes an annual dinner in the fall and a spring night out event.
THE 2018 FALL DINNER WAS HELD on Friday, October 5th at the Hazel Park Junior High and is the biggest fundraising event for HP Creative Arts. The event featured a silent auction, basket raffles, a 50/50 drawing and a barbeque dinner. Sponsors for the event included Go Comedy! Improv Theater, The Henry Ford, Arthur Murray Royal Oak, The Fifth Wall Society Escape Room and more.
While their focus is in the Hazel Park district, the nonprofit hopes their efforts impact all through metro Detroit.
"It benefits not just Hazel Park students, really it's all the kids. We want them all to grow up to be healthy,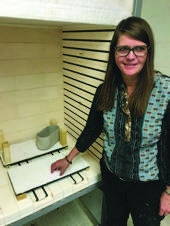 happy and successful. I strongly feel that the arts are important to that and I've seen it first hand," Vice President Holland says. "Additionally, many Ferndale residents have students in Hazel Park schools."
"With luck, our efforts to encourage a love of the arts in the school district may inspire a young budding artist to contribute to the arts in the community as well," Vanderveer adds.
HAZEL PARK CREATIVE ARTS is currently working with the school district to determine their next major funding project and in the meantime is focusing on their community engagement efforts and gaining some long-term sponsors.
"If there is anyone out there that would like to regularly donate, we are tax deductible. There might be individuals, businesses or church groups – any group –that want to support us and are welcomed," Treasurer Webb says. "There is a need and that money would be used in helping kids."
For more information on donating, getting involved or attending a board meeting with Hazel Park Creative Arts, visit their web site at hpcreativearts.org.