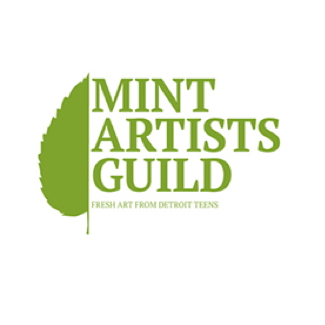 By Ingrid Sjostrand
DECIDING TO BEGIN A CAREER AS AN ARTIST CAN BE A DAUNTING TASK and it can be even harder to know where to start, especially as a young person or someone not afforded the opportunities of arts programs in school.
Knowing things like how to get your work into art fairs and exhibits and how to make money off your art are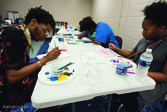 essential to success in the art world, which is why Vickie Elmer and her three co-founders created the Mint Artists Guild, a 501c3 nonprofit group dedicated to helping metro Detroit young artists succeed.
Established in early 2015, Mint has two main programs aimed at artists ages 14 to 21. The first, "Learn and Earn," is a mentorship program for students already making art, who receive coaching from Mint and the opportunity to participate in two or more art shows including Ferndale's Funky Art Fair. There is no cost to students to apply or participate in the program.
"It's for youth that are pretty self-directed and want to create a body of work," Elmer says. "They make their work at home and in school and we provide workshops, some mentoring and coaching and give an opportunity to sell their work."
The second initiative Mint runs is the "Summer Arts Program" where students are paid to work approximately 20 hours a week at Mint's Palmer Park studio creating art to be sold to clients, donated to nonprofits and used at art fairs. The main medium for the Summer Arts Program is painting and all artists create a self-portrait as one of their first projects. They have expanded into mosaics and linoleum cut prints and hope to grow their mediums more in the future.
Both programs require the young artists to apply and provide a portfolio of their work. The Summer Arts Program also requires an interview.
"We treat it like they are young professionals and if you're a young professional artist you have to submit your work, you have to put in a statement about yourself – tell people why you would be good to be a part of it," Elmer says.
ONE OF THE BIGGEST PROJECTS THE SUMMER ARTS PROGRAM WORKS ON is the Paint Detroit Generosity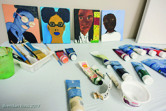 Initiative, where the youth choose a nonprofit, create a concept and image based on its mission and donate the art to the nonprofit. There will be an exhibit displaying this year's works at the Boll Family YMCA through the end of October.
"Part of my vision is to help the young artists launch their careers, but we want to be doing cool and generous things in the community too," Elmer says. "It's about finding how you put the two together."
Some ways that Mint is working to do this is through building public art installations, adding corporate clients and hosting more events. On November 3rd, they will host the Mint Masterpieces Gala at the home of art collectors Linda and David Whitaker. Tickets start at $100 and pieces will be sold and auctioned from a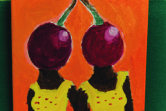 variety of well-respected national and local artists, as well as a few pieces from Mint artists and alumni. Proceeds will help provide supplies and funding for Mint Artists Guild.
In the three years since its founding, Mint has seen a lot of success from its artists and alumni. They've mentored 525 young artists, donated over 30 pieces to Paint Detroit with Generosity nonprofits, and their artists have raised over $7000 from their work.
ONE MAJOR SUCCESS STORY is jewelry artist Trinity Brown, who joined the Learn and Earn program two years ago at age 13. She has now created the Curved Teen Art Show – an all-day exhibit featuring the work of 25 young artists –and is on the board of directors for Mint.
"She is super entrepreneurial – like, I can't believe how entrepreneurial," Elmer says.
"This is a girl who's not even 16 yet, can't even drive yet, and meanwhile she still makes her jewelry and has put on her own art show."
Other smaller successes include watching a student's confidence grow through exploring art and seeing artists finding their true passion.
"I love the idea that in ten years we are going to have so many more success stories and so many more self-portraits," Elmer says.
The Mint Artists Guild functions mainly through the help of volunteers. Currently they have 45 volunteers who help at workshops, art openings, and art fairs. Those interested can apply through volunteermatch.org.