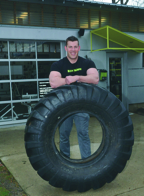 Story by David Wesley
Photos by Bernie Laframboise
Rossana Rea is local fitness trainer with a vibrant, philanthropic story to tell. he is the owner and head-trainer of his Ferndale-based gym body morph, and his achievements are numerous — not just for himself, but also for the people in the cities he's lived in. we met at Java Hutt last week to discuss his origins, his mission in life, and the impact his work has had on the people he's helped.
We sit across from each other at a side-wall table in the early afternoon. Rossano is a presence in himself: Tall, muscular, handsome, and his polite bass voice responds to my query, "I opened Body Morph in 2003. Originally, it was to be my next move from working in other gyms and training people out of my apartment in Royal Oak. I needed my own location; a spot that was big enough to house all the necessary equipment and get the job done, but not so large that it would lose the privacy aspect. I found a good piece of property, purchased it, and began to buy equipment and make changes to the existing structure. It started as personal training only, and grew into other things like boot camp classes. There wasn't a Snap or LA Fitness or any other gyms for that matter at that time. Those who wanted a great workout, came to me. And we had, and still have, a great time. I believe weightlifting should be a part of everyone's lives, no matter what age."
Between sipping coffee and speaking over the gathering crowd of the afternoon rush, I ask him how it has affected him during his tenure as owner and trainer. "It changed my life. My boot camp is centered around weights, machines, outdoor conditioning exercises and a bunch of balance work for core. Too many gyms are trying to redesign the wheel. I know what works and I stand by my product. I've trained a range of folks from the Pontiac Fire Department to former Big 3 executives, to In-Sync's Lance Bass when I lived in California. Military and police, athletes, to house moms and dads. My greatest pleasure is seeing the confidence spike from a client who has lost 120lbs, wouldn't leave the house a year prior, and now is feeling great about herself. This is what makes training fun for me. Everyone is unique and has a reason to train."
Before meeting Rossano, I had heard about his charity work with him dressed as Batman visiting various children in local hospitals. I asked him about this side: "My body was used as the mold to create the 'batsuit' Ben Affleck wore in Batman v. Superman: Dawn of Justice. After moving back to Detroit from Los Angeles, I created my own batsuit and began visiting hospitals such as Beaumont, Mott Children's of Ann Arbor and charity events. I don't like the way social media and society is making it easier for students to bully one another. So, aside from trying to put smiles on the faces of kids who are in the hospitals and feeling down, my other goal is to try and deliver a message that bullying is wrong. People can be cruel. Kids are mean to each other, and social media doesn't help. Everyone likes Batman, and if Batman says that you should be kind to others, people will listen. Check us out on Facebook and Instagram at Batman Visits to let me know if you'd want Batman to show up at your event."
He goes further to explain how this expanded into another aspect of Body Morph — starting a program specifically designed for children. "This notion got me to join forces with one of my staff members, Kristina Novichenko, and develop an after-school workout program for 9th-12th graders that not only conditions them physically but also teaches discipline and respect. Konfidence with Kristina meets Wednesdays and Fridays from 4:00-5:00 P.M. at the gym. We're thinking about adding a couple more days, since the students are liking it so much and seeing such great results. A confident and physically fit student is a student who, we believe, will be more respectful to their fellow students. We encourage parents to bring their teen to try out one of our classes. The first one is always complimentary."
I wind down the interview by asking him what the future holds for him and Body Morph. I'm satisfied with everything about Rossano: He's a wonderful human being who's given so much, and continues to give with his growing career. "Body Morph is always growing. I have a phenomenal staff of certified personal trainers who, along with myself, run my boot camp classes. We keep the classes fairly small and are truly like a family. Perhaps there may be a larger location in the near future or an addition built onto the current building. We're excited to be neighbors with Livernois Tap, and foresee a lot of success for everyone. It's been great being a part of the Ferndale community for such a long time and helping people awaken new potentials. Being able to show them that anything is possible is what Body Morph is all about. To "morph" is to change. Through solid workouts, education on proper nutrition, and good motivation, we can change your body safely and in a fairly quick amount of time. Large, impersonal gyms are fine for what they are. I sell accountability and privacy. We cater to those who want just a little more for their investment. It's an honor being a part of this community, and we look forward to serving the Metro Detroit area for years to come."