The Oakland Art Novelty Company : A "Pre-Prohibition" Bar in Downtown Ferndale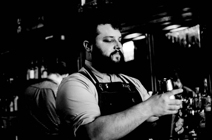 By David Stone
Photos by David Mcnair
YOU SAY YOU KNOW ALL THE BARS IN FERNDALE? READY FOR A SIMPLE TEST? WHICH BAR:
·    Was voted one of the best in the country?
·    Employs a bartender who has won both a national and a local bartending competition?
I'm talking about The Oakland : Art Novelty Company and master bartender Chas Williams.
So, let's meet our mixologist. Chas grew up in Bloomfield Hills, graduating from Lahser High School in 2006. He often stopped by the bar after classes at WSU and was eventually offered a job. Since that time, he has competed regionally and in Las Vegas and recently won a national competition sponsored by Glenfiddich Scotch. It was a very unusual competition about getting inside the mind of the bartender. He also won a local competition sponsored by Detroit City Distillery. He was then asked to create a custom a gin for them, which they sell out of their tasting room."
The Oakland is designed to resemble a "pre-Prohibition" bar. By this, Chas explains, "Bartending was more of a trade, you would apprentice under a bartender, like we do here. It was a much more respected profession.
And when that job was turned into an illegal drug-dealer, all the good bartenders either quit or left the country. Then, when Prohibition was over, they were having fun living abroad, none of them came back. The ones who had quit had been too old. So there was no continuation of this job of bartender as apprentice and professional."
Chas goes on to point out that when Prohibition was repealed, bartenders continued to use low-quality spirits. This continued till "about 20 or 30 years ago," when the craft of bartending was revived according to Chas. And he likes to say that a large part of the craft is hospitality. This is also reflected in the decor, which their website describes as "early 20th century speakeasy elegance and contemporary design elements."
The Oakland just recently started offering food. They still concentrate on cocktails, but they now offer a selection of high-quality appetizers or, as Chas calls them, "bar bites." But he repeats that the main focus of The Oakland continues to be "hospitality, and making good drinks."
I asked Chas what he liked about working in Ferndale. He began with an interesting bit of history, mentioning that The Oakland was "the first dedicated craft cocktail bar to open in the greater Detroit-area." Then he told me how "Ferndale is more welcoming to different ideas…Ferndale covers a lot more than people expect. It's a great place if you have an idea that you know someone will like, but you don't know who. Because someone will like it here." And if you are someone who likes expertly-crafted cocktails in elegant, pre-Prohibition surroundings, you need to check out The Oakland : Art Novelty Company.
The Oakland : Art Novelty Company 201 W. 9 Mile, Ferndale, MI 48220
(248) 291-5297 Theoaklandferndale.com