Allied Printing Company Celebrates 61 Years in Ferndale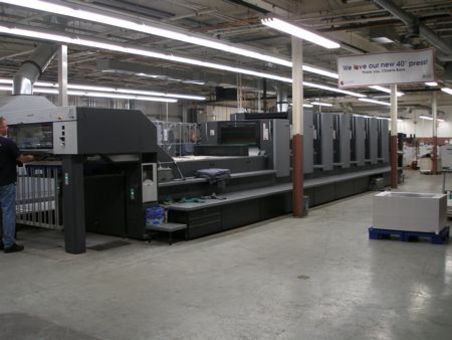 For all but 25 years since Ferndale's incorporation as a city, Allied Printing Company has been doing business within its borders.
Since opening as a small letterpress print shop in 1952, Allied has grown into a large print communications firm
that helps organizations meet their marketing and branding goals through a variety of print services including direct mail, eCommerce, data management, warehousing and fulfillment services, and more. With a client-first approach, and loyalty to the city which they've partnered with for over 60 years, it isn't hard to see how Allied Printing has become not only a leader in the graphic arts industry, but in the community as well.
Now celebrating 61 years in business, and the recent recipients of a city proclamation on April
8th, Allied Printing is focused on making the next 61 years even better. We spoke with Vice President Margaret Fitzgerald about what makes Allied Printing Company so unique.
Ferndale Friends: 61 years in business is quite an amazing accomplishment. Are you still operating out of the same location in which you opened?
Margaret Fitzgerald: Yes, our original location is our current address at 22438 Woodward. This is where we began. In 1952, Allied opened its doors as a black-and-white letterpress shop at this small storefront with only a handful of employees. We now operate out of four buildings and occupy over 100,000 square feet of warehouse, production, and corporate office space, all in Ferndale. We employ nearly 100 people.
FF: Many businesses don't make it anywhere close to 61 years. Why do you think Allied Printing has not only remained, but thrived?
MF: A thoughtful and experienced approach to service is at the top of the list when it comes to explaining our strong track record. We do not operate as a commodity print firm. We have endured as a graphic communications industry leader by investing in new equipment, technology, automated processes, unique campaign management tools and continuing education in the latest methodology. We have been blessed with long-lasting, mutually beneficial client relationships. We consistently put all available resources back into the business.
Our ability to adapt to the ever-changing marketplace and stay ahead of trends has allowed us to thrive. Embracing innovation has led to our consistent expansion over the past six decades. Our investments in technology, automation, and systems allow us to provide clients the flexibility, efficiency, and quality that they need to compete in the global marketplace.
FF: Why do you think the City of Ferndale and Allied Printing are such a natural match?
MF: Allied is closely aligned with the creative community. Ferndale is ideal because of the active and engaging artistic population. There is a strong sense of local pride among the residents and we give back to the community as much as we can. It is an important part of our company culture. There is a synergy that naturally emerges from this concentration of creative, communityoriented professionals.
Ferndale also has a close-knit, loyal business community. We have a deep bench of contacts, and the Ferndale business leadership understands that vibrant cities are comprised of residents and businesses that support each other. We see this spirit in Ferndale. The City leadership is supportive, always willing to help. And the geographic location can't be beat — we are no more than 20 minutes from a wide variety of neighboring communities. We are proud that Ferndale is our home.
FF: And it's a community that Allied seems committed to supporting.
MF: Allied believes strongly in the importance of being a good corporate citizen. Over the years, we have supported a variety of community businesses, organizations, programs, clubs, and community initiatives. This is a conscious decision for us. We know that through philanthropic work and community commitment, the strongest relationships develop. We have deep roots. Our current owners have been at Allied for 40-plus years. Our executive management team brings a combined 100 years of experience. Allied's dedication to the Ferndale community remains strong. It's essential that the community we do business in thrives.
FF: What can we expect in the next 61 years from Allied Printing?
MF: A focus on continued growth and investment. Active commitment to the Ferndale and Michigan community. Innovation in our industry, and enthusiasm for our core business. Allied has an incredibly talented group of employees and there is a real sense of family on our team. Allied will continue to assist our clients in achieving their goals, solving their problems, and improving their results via creative marketing, print, and electronic solutions. Allied will endure as a leader of full-service graphic and print communications, providing high quality print and innovative, personal service to the business community.
FF: Since opening yours doors, Allied Printing has become one of the most well-respected and influential businesses in Ferndale. How does it feel to hold such an important place, not only in the business community, but the community as a whole?
MF: Fantastic! Humbling. We feel blessed. It's truly a pleasure to be a member of the vibrant Ferndale business landscape. The enthusiasm in this city is contagious in the best possible way and it's big reason why we are so active. Whether it's our involvement in Dino's Lounge Toy Drive during Christmas, our support of Clean the Ferndale Up, or our long-standing participation in the Ferndale Chamber, we value our reputation as a good corporate citizen. It's our way of saying thank you for 61 years of incredible hospitality.
If something happened with our health, we believe there is a solution to any maladies in a preparation. What medicines do patients purchase online? Viagra which is used to treat impotency and other states coupled to erectile disfunction. Learn more about "sildenafil". What folk talk about "viagra stories"? The most vital aspect you should look for is "sildenafil citrate". Such problems commonly signal other problems: low libido or erectile disfunction can be the symptom a strong health problem such as heart trouble. Causes of sexual dysfunction turn on injury to the penis. Chronic disease, several medicaments, and a status called Peyronie's disease can also cause sexual dysfunction. Even though this medicine is not for use in women, it is not known whether this medication passes into breast milk.