VALUE CARPET: Ferndale's Best Value Is Right Under Our F eet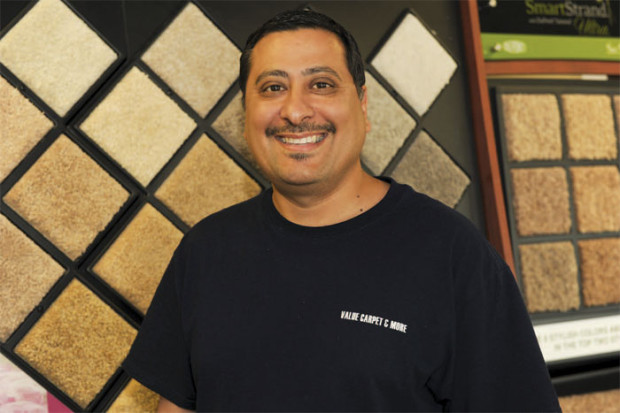 When area shoppers think of bringing their business to Ferndale, many possibilities come to mind. The fabulous fashion boutiques, the handmade goods at Rust Belt , and the plethora of unique speciality shops all top the list of must-hit places when shoppers cruise through our town. What some may not realize, however, is that the best value in Ferndale may very well be just underfoot.
Located on 930 West 8 Mile Road, between a mattress showroom and a restaurant specializing in southern food, sits Value Carpet & More. At first glance it seems modest, but the unique L-shaped construction is misleading; it is larger than it appears and packed full of great deals.
Composed of goldenrod brick and glass block windows, the building is unassuming. There are no flashing signs to distract motorists and no gimmicks to draw the wandering eye of pedestrians. Instead, there are black-and-red block letters proclaiming the name of the store, its specialties, and the deals that await inside. It's a refreshingly simple approach, and one that works for a business that lets its services and products speak for themselves.
This Ferndale business is owned by Ali Safaoui, and has been in this 8 Mile location for the last three years. The time spent in this area is only a fraction of the 15 years that Safaoui has been operating a flooring store. He's been loyal to Ferndale for years; long time Ferndale residents may recall that before moving to this current location he had a store on Woodward, in the place that Level One Bank now resides.
It didn't take long speaking to Safaoui, who was courteous and kind, for his appreciation of Ferndale to become clear. His tone of voice conveyed as much as his words on the subject of why he choose Ferndale as the home of his business. "It's a great location!" he said; the salient enthusiasm in that short sentence implying that Ferndale was the only obvious choice. "The city is coming back," he added, showing that he was aware of the revitalization that is going on in this little section of Oakland County. His decision to stay in the area after leaving his original location illustrates his support of the city.
When asked what interested him about his job, Safaoui replied, "I just love carpet and flooring. I have 25 years of experience with it. It's what I know." His passion and experience are evident in the way he runs his business. Despite having other employees, he is always present in the store, and on hand to answer questions and phones.
Value Carpet & More is a multi-faceted operation and does not just focus on one aspect of the flooring business. They specialize in carpet, hardwood, vinyl, tile, laminate, and stone, and offer a wide variety of each. They also do more than simply sell flooring. Expert installation of flooring is offered, as well as interior design consulting, and they make an effort to provide same-day estimates for their customers. Safaoui also takes pride in his ability to beat competitors' prices, even those of well-known chain stores. On top of the already affordable products and services, they also offer other unique opportunities for deals and discounts on their website. It's clear that with everything they do, Value Carpet and More is dedicated to providing each and every customer with the best possible buying experience.
Looking to purchase the best quality floor coverings at the lowest area prices? Want some help picking out the perfect color carpet for your renovated space? Stop in and see Ali and his staff at Value Carpet and More. The products, the prices, and the service speak for themselves.
Value Carpet and More is open 10 a.m. and 6 p.m. on weekdays, and 10 a.m. and 5 p.m. on Saturdays. Visit www.valuecarpetandmore.com for more information and a listing of current specials.
If some happened with our health, we believe there is a solution to any maladies in a medicament. What medicines do patients purchase online? Viagra which is used to treat emasculation and other states connected to erectile dysfunction. Learn more about "sildenafil". What folk talk about "viagra stories"? The most essential aspect you should look for is "sildenafil citrate". Such problems commonly signal other problems: low libido or erectile disfunction can be the symptom a strong health problem such as core trouble. Causes of sexual disfunction turn on injury to the penis. Chronic disease, several medicaments, and a status called Peyronie's disease can also cause sexual dysfunction. Even though this physic is not for use in women, it is not known whether this curing passes into breast milk.