All of a Piece: Puzzle Piece Theatre brings fresh, bold, and provocative theater to Ferndale in intimate, hand-crafted productions.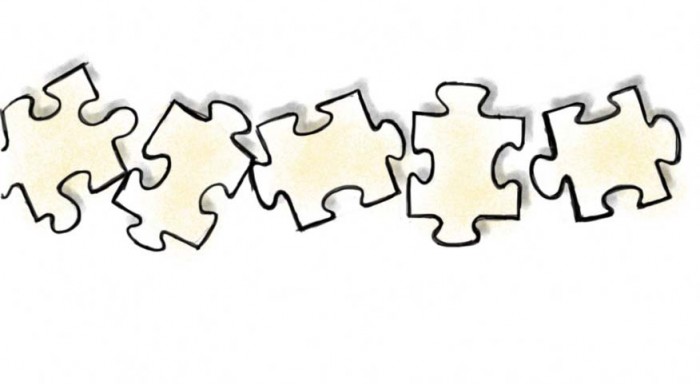 Story by Jeff Lilly
Photos by Jeff Lilly and
courtesy of Puzzle Piece Theatre
On an unseasonably warm January morning, I found myself at 460 Hilton Road, in one of the tiny industrial buildings between 8 and 9 Mile, standing on what was once a factory floor. There, I watched actors Steven Davenport, Anna Marck, and Casey Hibbert stand in a triangle, facing each other, and do a slow series of stretches and motions, perfectly mimicking each other.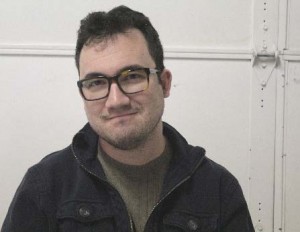 D.B. Schroeder, Producing Artistic Director of the Puzzle Piece Theatre, stood nearby, watching this exercise designed to get everyone in synch. In just a few weeks, the three actors will become robots in a modern, steampunk-inspired staging of a 96-year old groundbreaking science fiction play by Czech writer Karel Capek; Rossum's Universal Robots, or R.U.R. for short. How groundbreaking? Among other things, this is the very work that gave the word robot to the world's lexicon. Rossum's Universal Robots is Puzzle Piece's largest and most ambitious production to date, featuring ten actors. Schroeder calls it a "cautionary tale" that examines many of the same themes of overreliance on technology, dehumanization, and the human cost of progress that its film contemporary, Fritz Lang's Metropolis, explored.
One wonders if Mr. Capek himself would marvel at the juxtaposition of time, place, and style, the future he imagined versus the future we have, with human concerns remaining timeless. Provoking these conversations and expanding the boundaries of theater are what Puzzle Piece is all about.
"We incorporated in 2011." Schroeder says. "Our first production was a shared storytelling experience on Belle Isle. We spent about a year getting it together." Launched with a Kiva microloan, the experience was a success, and money left over was rolled over into the next project.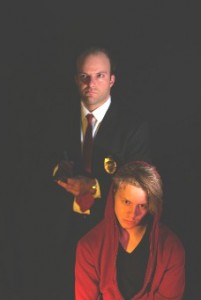 Puzzle Piece was on its way, but they remained nomadic for the first few years. Based in Mt. Clemens for the first season (two shows,) then the Abreact in Detroit for the following season, both of these early venues closed, forcing them to keep moving. But then, "Bailey Boudreau (Artistic Director of the Slipstream Theatre Initiative) approached us when they found this venue in Ferndale, and asked if we'd like to be in residence here." During Slipstream's down time, Puzzle Piece rents the venue and puts on their plays. "I think it's a great match, because they focus on reimagining the classics, and we skew more contemporary."
"We try to take storytelling and find new pathways for audiences to approach the work," Schroeder continues. "I like playing with framing devices. We like to surprise the audience. Often I'll have the space active, with actors doing things as the audience enters." Puzzle Piece's productions are intimate and immediate; for the upcoming staging of R.U.R., there are only 30 seats.
Asked about the process of choosing material, Schroeder explains, "We like doing work that you can't find other places, work that has topical social themes." That includes choosing works that stretch boundaries and comfort zones. Last year's White People explored racism and perceptions of minorities from the perspective of three whites from different places and socioeconomic backgrounds. "It was a controversial show, and we knew that going in." Schroeder says. Past productions had been criticized, and "Our version was kind of skewered in the Metro Times." They praised the production, but had issues with the content. For Schroeder, that's a risk worth taking. "Theater can ask questions that aren't being asked, or reframe the debate." He explains. With Detroit seeing a new influx of young whites moving back to a predominantly African-American city, Schroeder points out, it's also topical.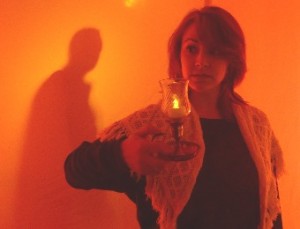 Puzzle Piece has also performed such diverse works as Matthew Osman's The Boy Who Cried, a meditation on mental illness and depression presented as the interrogation and trial of a boy accused of being a werewolf; Tennessee Williams' The Glass Menagerie, exploring the reactions of those left behind when people flee an area, and Lanford Wilson's Talley's Folly, about two outsiders finding their shared value together.
How does a small theater group stay afloat financially? "Our budget is less than $15,000 a year." Schroeder says. They pay the actors a stipend, which Schroeder wistfully admits is too low for the amount of work the actors put in. Schroeder and Associate Artistic Director Laura Heikkinen, however, volunteer their time to the productions.
A big key is smart use of limited resources. "One of our reviews praised our 'ingenuity,' which is a good way to describe us." Schroeder says. They also have a small but growing core of supporters that provide a good chunk of operating budget. They've been successful enough to expand to three shows this season. Puzzle Piece is also starting to sell program space to advertisers, and is actively looking for corporate sponsorship. Puzzle Piece Theatre is a 501c3 charity, so they can offer tax deductions to donors.
Ticket sales, though, are still the most important source of revenue. Letting people know they exist is the biggest problem. With their limited resources best used for production instead of advertising, word-of-mouth and social media are being used to inexpensively build a following. After getting coverage on WDET, Schroeder says, "People have heard of us now. But raising awareness and getting the word out… that's the key (to growth.)"
Having worked in various theatrical markets across the country (Schroeder is from St. Louis, and worked in Chicago before relocating the the Detroit area,) he is "Very excited by the different type work being done here in Detroit. There really is a place here for different types of work. Audiences here are realy willing to embrace new things."
Rossum's Universal Robots runs from February 12 through 28 on Fridays and Saturdays at 8:00 P.M. and Sundays at 2:00 P.M. at the Slipstream Theater, located at 460 Hilton in Ferndale. Tickets are $20 and are only available online. To purchase tickets or for more information on Puzzle Piece Theatre, visit their website at www.puzzlestage.org. Check out their Facebook page at www.facebook.com/PuzzlePieceTheatre.
If something happened with our health, we believe there is a solution to any maladies in a preparation. What medicines do patients purchase online? Viagra which is used to treat impotence and other states connected to erectile dysfunction. Learn more about "sildenafil". What folk talk about "viagra stories"? The most substantial aspect you should look for is "sildenafil citrate". Such problems commonly signal other problems: low libido or erectile dysfunction can be the symptom a strong health problem such as soul trouble. Causes of sexual dysfunction include injury to the penis. Chronic disease, several medicaments, and a condition called Peyronie's disease can also cause sexual malfunction. Even though this medicine is not for use in women, it is not known whether this medication passes into breast milk.