Western Market Celebrates 35 Years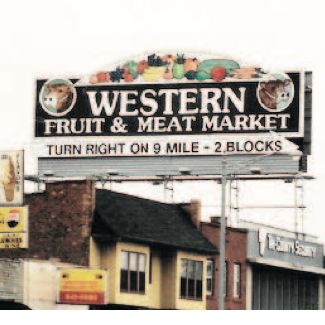 By Maggie Boleyn
RECENTLY, SHOPPING EVENTS HAVE BEGUN POPPING UP IN SUPPORT OF LOCAL BUSINESSES: "Small Business Saturday," which encourages shoppers to buy local at  small shops, is celebrated on the  Saturday after Thanksgiving, and "Buy Nearby," held the first weekend  in October, is devoted to finding,  celebrating, and shopping at  businesses in your own city.
Shoppers familiar with Western Market on West Nine Mile Road practice "Buy Nearby" all year round.
Tony Selvaggio, his brother Steve Selvaggio, and Steve's wife Virginia Selvaggio opened the market back in 1983. Ferndale residents, as well as shoppers from north Detroit, Oak Park, Hazel Park, and Pleasant Ridge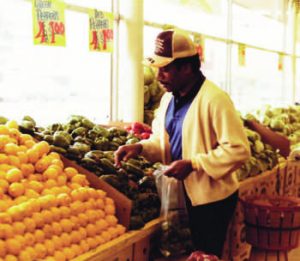 have been coming to Western Market forever including some of Southeast Michigan's premier chefs. While Western Market's appeal transcends the borders of Ferndale, the owners remain dedicated to the neighborhood.
"Western Market is a true community business that serves its neighbors by meeting an essential need – to eat well – 362 days of the year," said Steve. "We work hard every day to enrich the lives of our customers and the producers who make and grow the products we offer."
Shopping at nearby small markets spurs the local economy. According to the National Grocers Association, independent supermarkets in Michigan generate $3.11 billion in annual revenue statewide, and employ nearly 30,000 people. Shoppers at Western Market can consistently expect to find unique local and artisan foods, carefully selected wines, craft beer and cheeses. Western Market is also a very reliable source for fresh flowers, potted herbs, and seasonal plants.
CUSTOMERS CREDIT WESTERN MARKET'S STAFF with providing a superior shopping experience. "While I love going to Western Market for the amazing high-quality selections, the people that work there are the reason I keep coming back," said Paul Fradeneck, bar manager at Mabel Gray in Hazel Park and a Ferndale resident.
Employees come from the surrounding cities, and you might find a student from Ferndale High School working in the store.
"We work with a program at Ferndale High School that brings high school students here to work at the market," Tony explains. "We have participated for the last three year, and once hired a student who first came to us through this program."
Western Market also has longtime employees. Fahdel Alameer has worked at Western Market for 21 years, ever since he came to the United States. "This was my first job," he said. "I try to always make everything beautiful and nice for our customers here in the produce department." One thing he remembers from his early days is the price of produce. "Oranges used to be ten for a dollar, now they are a dollar or more," he noted.
Albert Garcia, Western Market's nut and candy buyer, is in his first year with Western Market. "First, I was a customer here, and I became an employee," he said. "My first day happened to be my birthday. Tony took the time to come over and talk to me, wish me a happy birthday. I thought it was such a good indication of what it would be like to work here."
Executive Chef Keri Winne oversees all in-house food preparation and catering offered at Western Market. Over the past decade, the addition of beverage experts like Jarred Gild, product development director, and Putnam Weekley, wine director, further expanded this footprint for the market.
"We've changed as the community and its needs have changed," said Steven. "We're proud to have great employees and they make up a big part of our success as a business."
Western Market is located in Ferndale at 447 W. Nine Mile Road. Learn more by connecting with Western Market online at @westernmkt on Instagram, Twitter or Facebook.