Valentine Distilling Company : Rifino Valentine Achieves World-Wide Acclaim!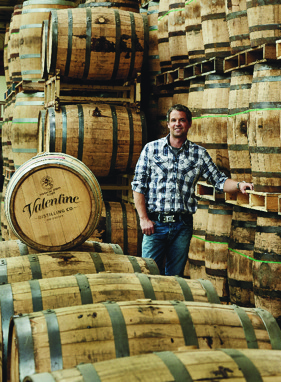 Story By Jenn Geddeke

RIFINO VALENTINE IS THE ULTIMATE ENTREPRENEUR. PRESIDENT AND FOUNDER OF VALENTINE DISTILLING COMPANY, HE HAS A STEADY FOCUS ON HIGH-QUALITY CRAFT DISTILLING, AND A BURNING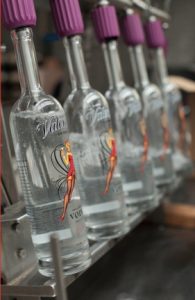 DRIVE TO PROVE THAT THE MIDWEST CAN GENERATE THE BEST LIQUOR IN THE WORLD.
Highly dissatisfied with imported and mass-produced goods, Valentine decided to go 'back to basics' and use the Midwest as his manufacturing base. Currently, Valentine Vodka is beating much of its worldwide competition; for example, the brand was awarded the coveted title of "World's Best Vodka" in 2016, by the World Vodka Awards in London. The Valentine brand gins and bourbons have also won multiple awards. According to Valentine, this momentum won't stop until the Grey Goose brand is no longer on the shelf!
Valentine grew up on farmland, with the classic Michigan example of John Deere making the best tractors. He realized that somehow as a culture, we developed the notion of local not being the best, and he has a strong desire to change that perception. In Valentine's view, large corporations are mainly concerned about profit, where the consumer gets the short end of the stick but has to settle regardless. His original philosophy was to step back, and to take no short cuts; as he explained, "Profit, of course, is still important…but, it's a balancing act."
At the point where Valentine was forming his business plan, there were only a handful of micro-distilleries in the country (at time of writing, there are over 2,000 in the US.) It was a brand-new type of business, in terms of both local and state economics; inspectors and landlords were not even sure how to classify or handle a micro-distillery. Public perception at the time was also limited, including that of liquor store and bar owners. Therefore, a large part of Valentine's task in developing his brand was in educating others
on micro-distilling.
How did Valentine choose Ferndale as a location? He recalls, "It was a happy accident! Detroit was actually my first choice, but at the time in 2007 there was too much red tape involved. The owners of B. Nektar Meadery –Brad & Kerri Dahlhofer — suggested Ferndale as a potential alternate locale." Valentine called the city, and spoke to the planner, Marsha Sheer, who gave him an enthusiastic response. He added, "The City worked with us, and looked for ways to help. Ferndale has the type of culture where new ideas are embraced." And so the Valentine Distilling Company Cocktail Lounge/original distillery was born. In addition, there is a new production facility at 965 Wanda (the largest in the country), boasting over 15,000 square feet of distillery space.
Naturally, all this growth is helping the local economy – Valentine is buying a lot of grain – plus, secondary and tertiary-level businesses are also benefiting. While developing his brand, Valentine did not consider that the local impact would be as profound; essentially, he set out to compete with the larger companies. Now, as a world-renowned distillery, his main focus is drawn back to MI, where he claims a lot of work still has to be done. Valentine's growth strategy is to keep expanding in the Midwest. His vision is, "…a sustainable pace, not explosive growth, so that quality issues do not occur."
Just released this year is a special bourbon whiskey line, named after Detroit Mayor Hazen S. Pingree (in office from 1890-1897, and considered to be one of the greatest mayors in U.S. history for breaking up monopolies and standing for regular workers). Two of these bourbons (the Blue and Black labels) have already won a prestigious 'Double Gold' award in the San Francisco World Spirits Championship. Regarding these new awards, Valentine says, "We only enter international spirits competitions to show the world what Detroit has to offer. To be awarded these highest honors meaåns so much to us." Surely no other distiller deserves these accolades more than Valentine, considering his dedication to the craft. Meanwhile, his brands keep on expanding; watch for a new addition to the Mayor Pingree family to be added in June: the 'Orange Label' rye whiskey. Certainly, this is one of the many Valentine brand drinks to look forward to this Summer!
For further information, please visit:
www.ValentineDistilling.com
www.facebook.com/ValentineVodka
www.twitter.com/ValentineVodka
Valentine Distilling Co. is located at:
965 Wanda Street, Ferndale, Michigan.
The Valentine Distilling Co. Cocktail Lounge is at:
161 Vester St., Ferndale, MI,
Hours: Tues.-Thurs. 4:30 P.M. – 11 P.M.; Fri. & Sat. 4:30 P.M. – 1 A.M.; Sun. 12:00 P.M. – 6 P.M.
Closed Mondays.