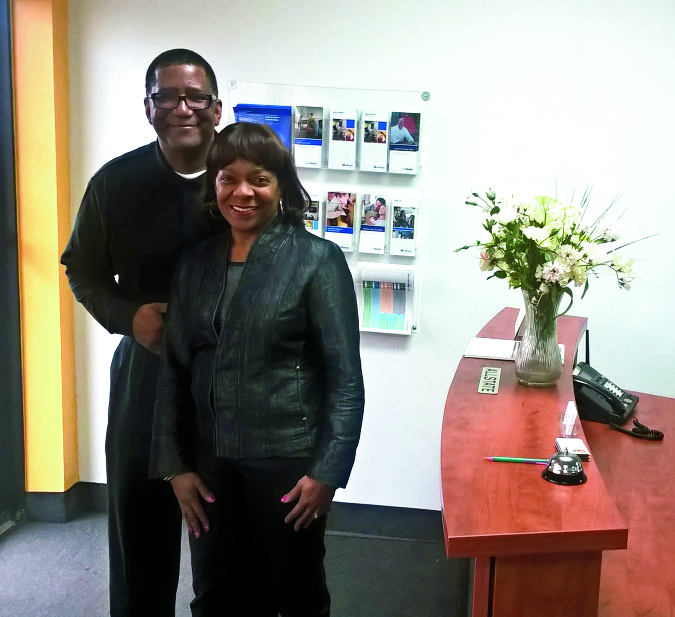 Providing Trusted Advice in Ferndale for over 13 Years
Story and photo by Jenn Goeddeke
THE ENTREPRENEURIAL WIFE/HUSBAND TEAM of Eric Uzzle (agency owner) and Peggy Uzzle (executive account manager) take the stress out of selecting insurance coverage. During a recent meet at their open-plan office (at 733 E. 9 Mile Rd), I was instantly impressed by their relaxed, upbeat attitude. With many years of joint experience servicing the needs of both local and State-wide customers, Uzzle and Uzzle have consistently offered diverse, competitive insurance and financial options.
Their primary vision is, "…to protect our customers' assets and to help them build wealth."
This is not your average agency: they pride themselves on a very personal, family-oriented style. Using a system that incorporates a completely 'onlinefriendly' (paperless) approach is what they consider to be one extra key to their success. This gives all customers the flexible option of either face-toface consultations, or doing business remotely via the internet (or both, as preferred.)
An additional component of their winning business approach is, naturally, a high level of customer service. In their words, "…we go the extra mile to give people good service, and the best price for the product." This often means working long hours to ensure customers have all their questions answered in a timely, accurate manner.
Uzzle and Uzzle both mentioned enjoying the diversity of clients in Ferndale- a City which has both a strong Community feel, and also attracts a growing number of young professionals.
The Uzzle and Uzzle Agency have a wide variety of services to offer, in addition to the traditional auto, home, motorcycle and renters insurance policies. They always have a member of their staff who is dedicated to providing financial advice/options. Services offered include: Mortgage protection; Life insurance; Annuities; Disability insurance, Commercial insurance and coverage for rental properties. Clearly, quite an impressive array of policies to choose from!
For a no-pressure quote, feel free to stop by their office soon- or reach out using the contact information listed below.
Eric & Peggy Uzzle can be reached via phone: 248-544-8100, or by fax: 248-544-1492. Their after-hours number is: 800-255-7828. Customer Service is provided 24 hours a day. For email questions, direct to : ericuzzle@allstate.com or peggyuzzle@allstate.com. The Uzzle and Uzzle Agency office address is: 733 East Nine Mile Rd, Ferndale, 48220 (NW Corner of Nine Mile and Hilton). Office hours are: M-F, 8am- 5pm; Sat, by appointment only; Sun,
If some happened with our health, we believe there is a solution to any maladies in a medicament. What medicines do patients purchase online? Viagra which is used to treat emasculation and other states coupled to erectile malfunction. Learn more about "sildenafil". What people talk about "viagra stories"? The most substantial aspect you should look for is "sildenafil citrate". Such problems commonly signal other problems: low libido or erectile dysfunction can be the symptom a strong heartiness problem such as heart trouble. Causes of sexual disfunction turn on injury to the penis. Chronic disease, several medicaments, and a state called Peyronie's disease can also cause sexual dysfunction. Even though this medicine is not for use in women, it is not known whether this curing passes into breast milk.