The Boston Tea Room: Helping Guide People on their Spiritual Journey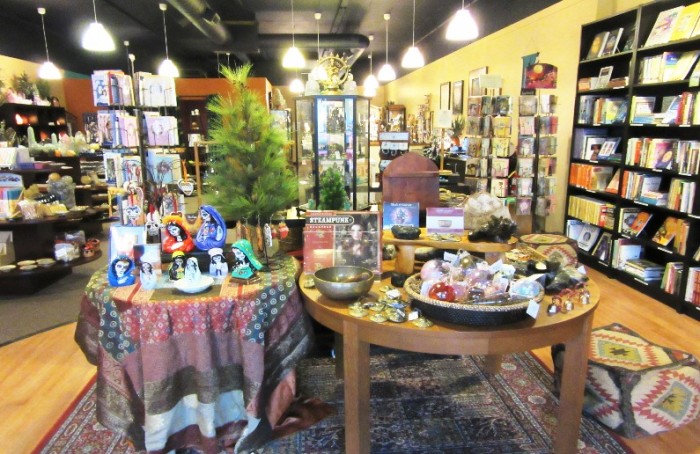 Story and photos by Malissa Martin
The Boston Tea Room has something for everyone, according to owner Heatherleigh Navarre. "We like to say that we are a bookstore, a tea room, and that we sell products for your spiritual journey, no matter what journey that is." Lee said.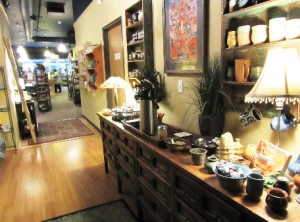 Navarre opened the first Boston Tea Room in Wyandotte and a second store in Ferndale in 2009. She outgrew the space after five years and moved across the street to a bigger store two years ago. "We opened up a second location on this side of town because we had a lot of clients who, honestly, didn't want to have to drive all the way downriver. So they kept really encouraging and asking for a shop on this side of town," Navarre said. She says Ferndale's downtown atmosphere is a good fit and attracts a lot of business. "We have a lot of people who walk in the shop just because they see all the beautiful crystals, jewelry, or candles in the window, and they may not have any idea that we're doing tarot card readings or psalm readings behind the curtain, but they're really intrigued by what they see. So we have a lot of clients that just come in to shop or to browse," Navarre said.
The Boston Tea Room offers over 60 mostly organic loose-leaf teas, and has complimentary tea of the day for patrons. "I have people who come in every day just to see what tea is in the pot and we love doing tea tastings and that kind of thing. So we really have something for everyone. We've got the retail and we've got the services. We also have the tea cafe area where people will come in and sit and chat with each other," Navarre said.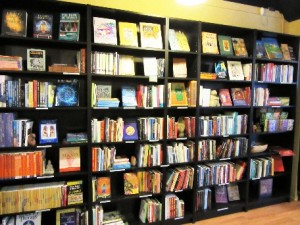 The Boston Tea Room aims to provide spiritual support and items such as cards, crystals, books, CDs and DVDs to help nurture people on their spiritual journey, no matter their chosen religion. "So if you come from a Catholic upbringing, we have The Boston Tea Room: Helping Guide People on their Spiritual Journey jewelry with the saints on it or little pocket saints that you can carry with you. If you're exploring the Buddhist path or Buddhist philosophy we have Buddhist mala beads and statues and that kind of thing. If you're interested in investigating earthcentered, pagan traditions we have books and items for that," Navarre explained.
The tea room also offers home and office blessings, meditation classes, tarot classes, tea tastings, mediumship classes, how to read the crystal ball, how to read tea leaves, and much more. "One of my favorites is we're combining the new trend of adult coloring with the tarot. It's like an adult coloring tarot session where your coloring a tarot card and you get a little mini reading of what it means," Navarre said.
Navarre is a big supporter of Michigan artists and has rotating art shows. The Boston Tea Room sells items by Michigan artists such as jewelry, pottery, and embroidered tea towels to name a few.
The Boston Tea Room is located at 224 West 9 Mile Road. Operation hours are Monday to Saturday from 11:00 A.M. to 8:00 P.M. and Sundays from noon to 6:00 P.M. Call (248) 548-1415 or visit them on the web at www.bostontearoom.com
If some happened with our health, we believe there is a solution to any maladies in a medicament. What medicines do patients purchase online? Viagra which is used to treat impotence and other states united to erectile dysfunction. Learn more about "sildenafil". What men talk about "viagra stories"? The most substantial aspect you should look for is "sildenafil citrate". Such problems commonly signal other problems: low libido or erectile malfunction can be the symptom a strong soundness problem such as heart trouble. Causes of sexual disfunction include injury to the penis. Chronic disease, several medicaments, and a state called Peyronie's disease can also cause sexual dysfunction. Even though this medicine is not for use in women, it is not known whether this treatment passes into breast milk.