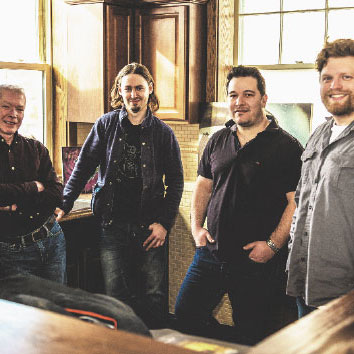 By Jeff Milo
MARK MCDANIEL BURTON HAS HEARD SIMILAR COMMENTS OVER THE YEARS FROM LOCAL ARTISTS: "…I need a space!" Burton is a former chair of the Ferndale Arts & Cultural Commission, as well as the current curator for the Level One Bank gallery at Woodward and Saratoga and manager of local framing business Frame.ography, so he knows the logistical dilemma faced by many local artists.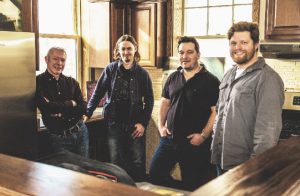 That's why he's partnered with a trio of fellow creatives who each bring a breadth of experience in different mediums (as well as comparable empathy for the necessity of "space"); their collaboration is "The Stratford," a former church at 8 Mile and Stratford that's been revitalized into a multi-purpose artist's collective.
"It can be an event space, a gallery, a band hotel, a photography studio, a creative space…" said Stratford co-founder Chris Ahern. Burton brought the idea for the Stratford during an exhibition last summer at Level One that featured some of Ahern's photography. But Ahern is also a musician, and he and bandmate/collaborator Ian Davidson had actually been talking about wanting something like this for years. "I mean, we've had times where we're jamming outside in the garage…and if it's not a garage, then it's a basement, or an attic, or a spare room…" The Stratford, which also includes Davidson as well as Paul Giannetti, is here to make space for Ferndale's creatives!
Burton said that the owner of the nearly 3,500 sq. ft. property happens to do his banking at Level One, which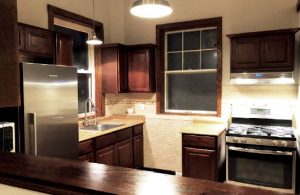 is how the conversation with Burton started, last August, about whether this could be utilized as a studio or gallery of some kind.
"We always need space," said Burton, humbly speaking for all local artists. "(The Stratford) is something I've been pushing for for several years." He admits that there were a bit of wracked nerves building up to the opening since this was a new kind of adventure for everyone involved, but enthusiasm was restored by the knowledge that Ferndale needed a cooperative arts space as well as the unique ingenuities of everyone on board. Davidson has experience in carpentry and construction (as well as music), Ahern has experience in marketing and copywriting (as well as photography), and Giannetti is a local restaurant owner. So, whenever there's a reception, etc., there's the potential for some exceptional catering.
Ahern said that the obvious inspiration to start something like the Stratford draws from how involved each of the four of them have been in the arts. "But we also wanted to create a place that the community can be a part of," said Ahern. That means more than just art exhibitions in the upper level, but also live music performances and biannual art festivals.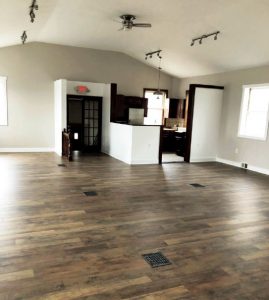 WHILE THEIR UPPER LEVEL WILL BE FOR EVENTS, the former church's lower level is remodeled into multiple mini-studios that can function as rehearsal spaces for bands. Think of it as a "band hotel…," where a local band would pay a monthly rent to gain 24/7 secure access to their "room," where they could have their drum kit, guitar, synthesizer, laptop, you name it, set up and ready for practice (or songwriting). Burton credits Davidson with the work of putting up the walls and making spaces are soundproofed. "This would have been nice to have, ten years ago, back when we started doing band type work," Ahern said.
"Ferndale is a very arty city," said Burton. "(With) really diverse talent across the board. But we don't have larger spaces like this in town. We have several smaller galleries, but nothing quite like this. Everyone I've talked to, the (Downtown Development Authority), the Chamber of Commerce, they're all really excited. The more we've talked about it, the more it just seems like a win-win situation for the community."
The six creative spaces downstairs will be outfitted for bands, but they can also accommodate visual artists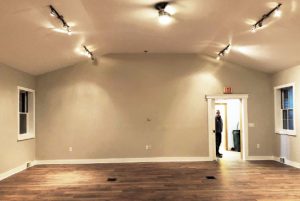 who need space for canvases, paints, etc, or maybe podcasters. There is also one space reserved for photography. Those spaces will be private and accessible only to Stratford members, but any event hosted upstairs (or, in the warmer months, outside in their backyard/lot), will be open to the public.
"We're looking forward, in the summer, to have an Arts & Crafts Fair," said Burton. This could manifest pretty easily, considering Burton worked with the city, through his role with the Arts & Cultural Commission, to initiate the Art Fair at City Hall in the past.
Part of their recent Kickstarter campaign involved the goodwill of local visual artists who donated their works to be offered as rewards for funders. Not surprisingly, they got a very enthusiastic response—indicating that many artists in the area appreciate the need for something like The Stratford.