The Om Cafe : Not Just Steamed Veggies & Smoothies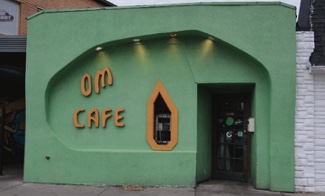 By Jennifer Goeddeke
SINCE OPENING IN 1985, THE OM CAFÉ has developed a pioneering status in the local realm of vegetarianism. Located north of 9 Mile on Woodward in the heart of Ferndale, The Om has a welcoming and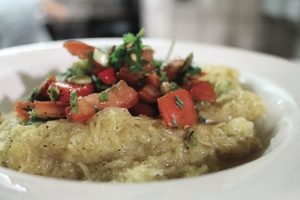 cozy interior, including a range of beautiful artwork on the walls from local artist, Sumi Lee. Colleen Smiley was the original owner of The Om for over 20 years, and she helped forge a path ahead for those who favor a meat-free diet. While the meatless market is widely accepted as a healthy lifestyle in modern times, public perception was not always so favorable. The emphasis at The Om has been consistently on meatless cuisine, with menu options focusing on homegrown and organic fruits & vegetables, plus GMO-free/pesticide-free grains (macrobiotic and gluten-free menu options included). The Om formerly served fish, but these days the only non-vegan foods served are cheese (with certain dishes), and eggs are available on the brunch menu at least for the near future.
Since 2014, Om Café has been under the co-ownership of two Ferndale residents: Bill Blondy and Jessica Norwood. Both Blondy and Norwood were long-time customers and devoted fans of The Om. Norwood is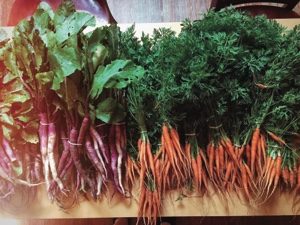 currently handling the majority of the café operations, along with her husband, Matthew Helsel, and a team of 12 other staff. Norwood was introduced to The Om Café at age three, through her mom, and worked her way up over the past five years, from waitressing to management, then into ownership. She fondly describes The Om as, "a child of mine since I was little…I used to empty my piggy bank for a nori roll! This is absolutely my dream job. I can't imagine being away from this space and this environment."
Norwood's main goal with the menu, as she explained, is to: "Stay fresh to the times while still respecting the tradition of everything The Om stands for. I am basically creating a niche within a niche, by focusing on 'vegan comfort foods'! On a daily basis, I am asking myself, 'what are people excited about eating?'"
Being the head chef comes with considerable responsibility to her customers. "There are so many different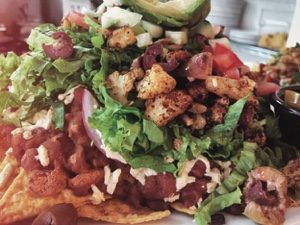 forms of vegan cuisine, and being a chef is generally an egocentric profession. But I continuously learn and grow. Food is life. It's a gift to enjoy. Every member of staff here plays a pivotal role."
Customers gravitate to The Om Café for a variety of reasons. Some are influenced by advice from a doctor, to eat less meat in order to lose weight for example. Others may be drawn to try vegetarian or vegan cuisine due to a girlfriend or boyfriend eating that way.  Many times, a macrobiotic diet is suggested for those fighting different types of cancer.
Norwood has an abundant passion for The Om, where she believes that even her personal attitude and energy level will be conveyed through the food she cooks, "I feel like I am home when I am here! I met my husband here, was proposed to here, and have had friends' and family birthdays here. It can be humbling to think that my positive or negative energy translates into the quality of food that I serve."
The Om Café has received several awards over the years. Most recently, the 'Click on Detroit' Channel 4 News award for 'Best Vegetarian Cuisine, 2017.' Norwood likes to give back to the community also; there is a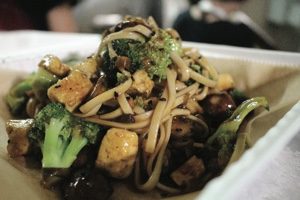 donation box inside the café and the proceeds go to a local shelter. Recently, she hosted a "Nom Week," where The Om joined forces with the nosh pit food truck, and together they raised money for Ferndale's Catfe Cat Shelter.
Norwood is not just creating delicious vegan dishes, she is creating an overall vibe of enthusiasm and positivity, which is transferring to staff and customers alike. We look forward to seeing more of what she has in store for us soon!
23136 Woodward Ave., Ferndale, 248.548.1941
Jessica@omcafe.com
www.facebook.com/omcafeferndale
M/W/Th/Fri: 4-9pm.
Sat: 11a-3pm; 4-9pm.
Tues, Sun: Closed.