Knight Light Candle : In the 'Blessing Business' for Over 25 Years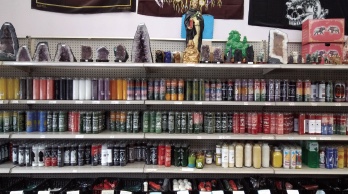 By Jennifer Goeddeke
NOW AT THEIR PERMANENT LOCATION IN OAK PARK (9 mile & Scotia), Knight Light Candle is certainly a mind-expanding store! With an abundance of light streaming in from the multiple high-set windows and an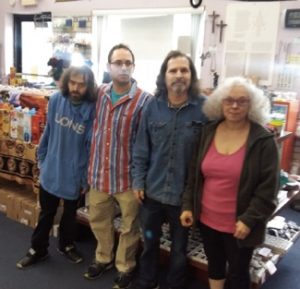 eclectic selection of items, Knight Light is a relaxing treat to browse around. The store is a family-run business, previously situated for two decades in Detroit (at Mt. Elliott & Gratiot). Customers come from all over to shop – including many from out-of-state locations and Canada.
Owner Ron Hammer started out in the candle business over 30 years ago, at a company called Skippy Candles. In 1990, he moved on to work at Goodwill Candles. Soon after, in 1992, he decided to open his own store and Knight Light Candle was born!
I recently met with Ron, Jon, Ben and Nancy Hammer for a guided tour and interview. It was immediately clear the Hammers love what they do. Immediately upon entering the building, customers are given individual attention. And Ron pointed out, "our customers always come back!"
As the name would suggest, the candle inventory is impressive. There are candles to represent almost any possible occasion, and to enable wishes or prayers to come true.
Some are even designed with humor in mind, such as the "Shut Your Mouth!" or "Obey Me!" candles. Certain candles have specific messages attached for customers to read; all candles sold can be individually blessed or 'dressed' with special oil. Other stores, and some churches, buy candles from Knight Light in a wholesale manner because of the high quality and variety available.
There is a diverse inventory of other unique and in-expensive items to choose from, including incense, pure oils, jewelry, crystals, beads, shells and more. The products sold cover a broad spectrum, from new age and metaphysical to various different cultures/religions.
The Hammers are always open to specific questions, and encourage customers to ask for advice. Knight Light Candle offers a great experience, and one well worth repeating!
10332 West 9 Mile, Oak Park MI 48237
248-291-5483
klc@knightlightcandle.com
www.knightlightcandle.com
www.facebook.com/Knight-Light-Candle
Monday-Thursday 10:00 A.M. – 6:00 P.M.
Friday and Saturday 10:00 A.M. – 7:00 P.M.
Closed Sunday