Starting a Movement: The Institution of Dance Arts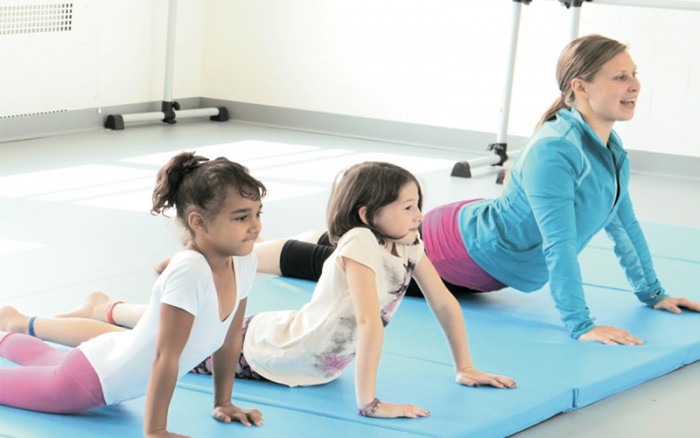 Story by David Wesley | Photo courtesy of the IDA
Anchored in the midst of a patch of industrious steel and stone, resting before the train tracks on the corner of Woodward Heights and Horton Street, you might be surprised to find a colorful and emi- nent dance studio. But here lies The Institution of Dance Arts, or IDA. Inside the cordial lobby waits a café-like countertop guarding rows of little black chairs for kids to sit, eat and draw. Once inside the bright vanilla decor of the main studio, a spacious and speck- less space popping with the movements of dancers of all ages, I meet with the owner and main instructor, Ida Lowback and she cheerfully grants me an interview.
At IDA, Lowback explains, they investigate dance as an art form and explore the instinctual need for movement. Students are given the freedom and security to explore their creativity. IDA's profession- al and dedicated dance educators provide their students not only with the knowledge of dance movement, vocabulary, and history, but also with skill sets that will enhance their lives outside of dance. Offering classes in all genres to all ages and levels within a safe, nurturing, and educational environment, allow them to create life- long dancers who appreciate the art of movement.
FERNDALE FRIENDS: WHERE ARE YOU FROM AND WHAT MADE YOU DECIDE TO SETTLE ON FERNDALE TO OPEN YOUR STUDIO?
IDA LOWBACK: I was born and raised in Royal Oak and grew up dancing throughout Oakland County. I always knew that when I started my own studio I wanted it close to home and in a culturally rich community. I was surprised to learn that Ferndale, being such an artistic and creative area, had no traditional dance studio (ballet,
jazz, tap, etc.) and so it was a perfect opportunity. Since we opened in September the community has been extremely welcoming and I have loved getting to know it and its residents; so much so I just purchased a house here!
FF: WHAT HAS YOUR EXPERIENCE BEEN LIKE TEACHING SO MANY DIFFERENT PEOPLE DANCE IN SUCH A COLORFUL CITY?
IL: It has been a pleasure. Dance is a universal language and brings people together. The people of Ferndale are known for being open-minded and community-oriented, and so teaching dance here has been both an exciting and rewarding experience.
FF: CONCERNING YOUR STUDIO AND ITS FUTURE, ARE THERE ANY GOALS OR PLANS YOU WOULD LIKE TO SEE ACHIEVED?
IL: My long-term goal for the studio is for it to become a cultural cornerstone of Ferndale and a second home for its students. A dance studio is successful when it becomes closely ingrained with its surrounding community and creates a space where students feel free and safe to share and explore the wonders of movement. My goal is that our students find an emotional outlet and a vehicle for personal development that guides them throughout their lives. I am confident that if I invest myself in my students, staff, and community, I can achieve this goal.
The Institution of Dance Arts is located at 701 Woodward Heights, Suite 130. Phone 248-697-2200 or visit their website at www.theinstitutionofdancearts.org
If slightly happened with our soundness, we believe there is a solution to any maladies in a medicament. What medicines do patients purchase online? Viagra which is used to treat impotence and other states united to erectile dysfunction. Learn more about "sildenafil". What folk talk about "viagra stories"? The most substantial aspect you have to look for is "sildenafil citrate". Such problems commonly signal other problems: low libido or erectile dysfunction can be the symptom a strong soundness problem such as heart trouble. Causes of sexual malfunction switch on injury to the penis. Chronic disease, several medicaments, and a condition called Peyronie's disease can also cause sexual disfunction. Even though this medicine is not for use in women, it is not known whether this treatment passes into breast milk.