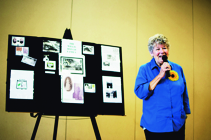 By Maggie Boleyn
PSSSST…FERNDALE ISN'T JUST A HIP HAVEN FOR YOUNG PEOPLE. Ferndale's more senior citizens are a very active, and very involved part of the city as well.
Jeannie Davis, president of the Ferndale Senior Group, says the group provides a "new outlet for socialization." She adds that board members strive to "work very hard to make the senior experience more enjoyable."
Davis, who also writes the seniors column for Ferndale Friends, said her goal is "to make the group more visible." She adds that Ferndale Seniors are an active group within the community, participating in events like selling T-shirts for the Woodward Dream Cruise, leading pub crawls, manning a rib tent and helping with other local happenings. "We are visible and viable," she said. "We aren't just playing bingo, and sitting and knitting."
Indeed, the Ferndale Senior Group is also embracing technology to help seniors connect with each other and with the community at large. "I love texting the Mayor," Davis said. The Ferndale Seniors Group also has a Facebook presence, where Davis wrote: "Ferndale Senior Group is a social group comprised of people who are 55-years and over. Being a Ferndale resident is not a requisite."
The Ferndale Senior Group meets twice a month on the second and fourth Wednesdays at 11:00 A.M., at the Kulick Center on Livernois. "These meetings aren't just gabfests," Davis promises. "It's always a learning experience." Recent guest speakers included a visitor from the Ferndale Historical Museum and the group also hosts a candidate forum, where attendees can meet, greet and ask questions of candidates running for office.
Elected officials also visit the Ferndale's Senior Group although, as Davis hastens to clarify, "We are not a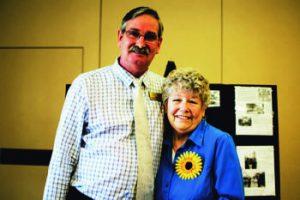 political group." The visits are merely to provide information to attendees. Politicians and candidates do well to court senior voters. According to ElectProject.org, at any time, more than half of registered voters over the age of 60 can be relied upon to cast a ballot in elections. In presidential voting years, 70 per cent of registered seniors will cast a vote, in person or by absentee ballot.
Davis notes that a mayoral town hall is also another feature of the Senior Group. She said that plans are in the works for Mayor Dave Coulter to hold a town hall meeting at the Kulick Center on October 11. "Anyone can come," Davis added.
The Ferndale Senior Group also offers short day trips to nearby places such as the Detroit Institute of Arts, the Zoo, Cranbrook, and the River Walk on the Detroit River in Downtown Detroit. "We're constantly looking for different things," Davis says. "We want to give them something more to talk about than daytime TV and aches and pains," she adds. The group offers a wide variety of inexpensive things for people to do.
The Senior Group allows anyone to attend meetings; however, persons who become members receive discounted rates for events and activities, Davis says.
Money Magazine pointed out that "The best places to age well have lots of jobs, good public transportation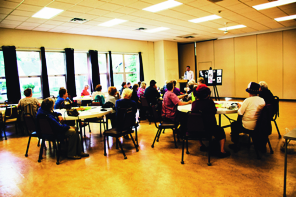 and active communities." Davis, who retired from running her own business as a real estate appraiser, considers Ferndale as a "senior-friendly" city. "Ferndale is a very walk-able community," she said. "Also, we love the 'businesses on Nine', especially Western Market." Davis says. She adds that Ferndale's Metro Detroit location means there are plenty of opportunities for visiting cultural venues and volunteering.
Davis, who has lived in Ferndale since 1960s, concludes that Ferndale seems "genuinely fond of seniors.