Ron Gillham Recalls His Time as Mayor and Continues to Praise Huntington Woods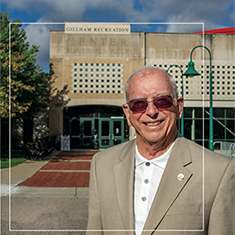 Story by Sara E. Teller | Photo by Brita Brooks
FORMER HUNTINGTON WOODS MAYOR RON GILLHAM was elected to his position in 1981. Prior to that, he served on both the Zoning Board of Appeals (1972) and the city commission, beginning in 1977.
"MY FRIENDS CONVINCED ME TO RUN FOR THE CITY COMMISSION," he recalled. "I lost by only 20 votes. But the person who won wasn't there very long and I was appointed. Then, the opportunity came to run for mayor and I went for it."
Gillham is well-known as the second longest- serving mayor in the state of Michigan, and is a proud, long-time resident of Huntington Woods. "My wife Shirley and I have lived in the same house since 1959. Huntington Woods is close to many other downtowns in the area – it is too small to have its own. It's all about location – location, location, location." He added, "I also appreciate the cooperative nature of the City Commission, the citizens, and our public safety officers. All of the city departments do their best to make this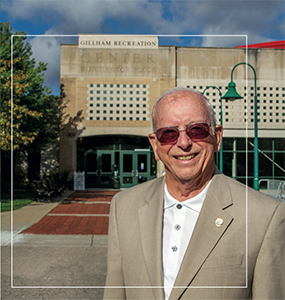 a very pleasing and wonderful city in which to live."
Many important initiatives took place during the more than three decades Gillham was Mayor. He fondly recalls a time when the beloved Rackham Golf Course on 10 Mile was to be put up for sale and he successfully advocated against it. The community came together and fought to keep the historical site, which was constructed in 1925.
He said, "One of the more interesting things that happened was when the mayor of Detroit wanted Rackham Golf Course to be sold but couldn't do that legally. The residents of Huntington Woods really came together and made sure that didn't
happen. Just the overall response of the residents was commendable."
Gillham added, "I also always enjoyed our Fourth of July parade. It was a great way for everyone to come out and have a good time. In all the years I was in office, I can honestly say it never rained
on our parade."
HE FEELS VERY FORTUNATE to have had great city managers and credits their dedication to the day-to-day happenings for the reputation Huntington Woods has maintained throughout the years.
"I was extremely fortunate," he explained. "They were responsible for the day-to-day running of everything that needed to be done. I would make suggestions here or there, but they really did a great job. And when things were going well we would do everything we could to keep them."
Asked about the Gillham Recreation Center, he said, "It's my pride and joy. When it was first
suggested, there was some pushback, but ultimately it was decided the Center was a good idea and plans were developed…I was both surprised and very pleased when I was told my name would be put on it.'
Gillham's name was actually installed on the building while he was out of town and it was covered with a tarp. When he returned, he was invited to what he believed to be a community fun night when it was actually the unveiling of his name etched in limestone.
The Center is now home to many group meetings and events. It also hosts summer camps, clubs, sports teams, and activities for residents of all
ages. It has proven to be an important gathering place for area residents.
Gillham said, "Including the pool was one of the bigger decisions that had to be made. They had to eliminate the existing one and replace it with a competitive pool. That was a major financial asset – kids enjoy it, adults can swim laps, and the swim teams use it." He added, "It is also a nice place for the Men's Club to meet."
OVERALL, GILLHAM IS HAPPY to have had an opportunity to give back to a community that's near and dear to his heart.
"Huntington Woods has been, and continues to be, one of the best cities in which to live," he said. "In fact, it's considered one of the ten best small cities in the U.S. and the best in Michigan. It's close in proximity with lots of things to do. Downtown Berkley, Royal Oak, and Ferndale are right around the corner. There are shops and the golf course. A large majority of the land belongs to the Detroit Zoo. It's a prime location."
He has many fond memories of his time serving as mayor and often tells others he had "two careers almost simultaneously," working at General Motors while in office. Life is a little more laid back these days. Gillham is retired, and while he and Shirley are still active members of the Huntington Woods community (and have a fair share of their family nearby), they enjoy vacationing, especially during the summer months.
"Shirley's family is in Canada," Gillham said. "We just got back from visiting them. We enjoy traveling, and I keep active around the home, doing things for my family."