Rogue Estate BBQ Smoke & International Flavors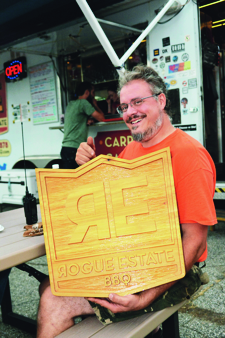 Story By: Ingrid Sjostrand
Photos By: Bernie LaFramboise
PICTURE A RESTAURANT WITH A ROTATING MENU of exotic cuisine made mostly in a barbeque smoker, and to top it off it's based out of a food truck. That's just one of the twists that give Rogue Estate BBQ an edge over the trend of food trucks in Ferndale.
Another defining quality is that it's a food truck that doesn't travel. Owner Bob Perye got tired of moving between locations, the lack of a consistent crowd and the wear on his equipment, so when he parked his truck at the corner of Woodward Heights and Gainsboro St. two years ago he decided to never leave.
"It was right around the time that 9 Mile went under construction, so it was kind of good timing," he says. "And it's been great, I love this neighbor-hood. Everyone in this neighborhood has been supportive."
The block seems to be growing around Rogue Estate too, with UrbanRest Brewing Company and butcher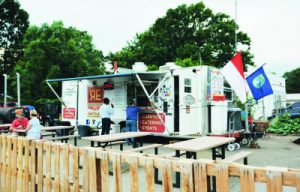 shop Farm Field Table opening in the last two years and bringing additional business to the area.
Perye doesn't have the typical chef backstory either he didn't go to culinary school or work in restaurants building his way up to opening Rogue Estate. Surprisingly, he spent the majority of his career as a computer engineer. "I did engineering for 20 years and was always on a call, always had multiple phones and pagers and I was getting burned out," Perye says.
After trying a change in companies without relief, he knew it was time for a career switch, but it wasn't as easy as trading in the computer for a smoker. Prior to leaving his job, he started the Rogue Estate cooking club with a few friends.
"We started cooking every week; that went for a while and it was a lot of fun," he says. "We did a lot of cool stuff, and the gist of it was that you guys can do this too, anybody can tackle this complex stuff."
Once word got around about Perye's skills in the kitchen, he began catering events like B. Nektar Meadery's annual party and various veterans benefits. As his reputation grew, Perye found the confidence to take the leap and open Rogue Estate BBQ.
While he doesn't miss working in computer engineering, Perye says he is still using those skills every day, whether it's troubleshooting the sales system in extreme weather or repairing the truck, and he's happy to share his skills with his neighbors. "I don't just cook, it's fun and keeps it interesting," he says.
After refining and perfecting the classics – like pulled pork, ribs and beef brisket – he set out to explore the fare of the world and seems to have found his creative calling.
"I started dabbling into the Rogue Estate premise that we're cooking something from another part of the world every week," Perye says. "It's fun to do the research, I watch Anthony Bourdain and I'll see a country I've never heard of or a combination of flavors, and I have to try that."
The standard barbeque options are always on the menu and typically sell out as favorites among regulars, but Perye wanted to keep things interesting, so he began exploring international cuisine as a daily special.
"There's this entire other group of people, new customers and repeat customers alike that are here for the special and they get that every day because it's different every day," he says. "It makes me a better cook and keeps the guests interested."
The secret to knowing what culture is being featured each day are the flags Peyre has hanging around the fencing of his lot. He started by hanging flags of things he liked or had an affiliation to and it grew with the international menu.
"The flags were just a natural grab of attention. I thought I'm gonna get a flag for whatever the first culture was. Now Amazon gets about five or ten bucks from me buying new flags each week," Perye says.
Currently Rogue Estate is open Thursday through Saturday from 3:00 P.M. to 7:30 P.M. year-round. Perye hopes to expand hours in the near future, but is working with a staff of only himself and two employees and understands the realities of cooking with a smoker.
"The brisket takes 12 hours minimum, sometimes 14, so when we're out we are out," he says. "We can only sell so many in a four-to-five-hour period."
This isn't stopping Perye from planning ahead though, and he has no intentions of leaving the space he parked in two years ago.
"I love this neighborhood – the regulars, my guests and my neighbors – The folks that have been here for 40 years and the new neighbors – it's great to be part of this," he says.
"The dream is to have our own restaurant and I think that's when you've finally made it.
I'm not beholden to this giant box on wheels, I think I would like to get a building and then sell that on to the next guy that wants to get started."