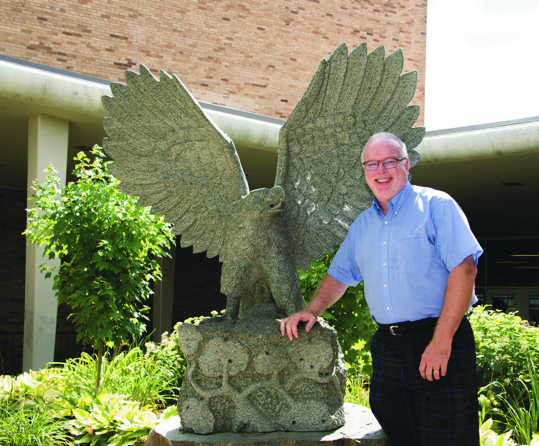 By Blake Prewitt, Superintendent, Ferndale Schools
(Originally Published January 9 2017)
Earlier this week, Ferndale High School Principal Roger Smith announced that he will be retiring at the end of the school year. Mr. Smith's retirement marks the end of an iconic 34 year run at Ferndale Schools.
Mr. Smith is a lifelong Ferndale Schools resident who graduated from Ferndale High School in 1974 to pursue his teaching degree from Wayne State University. After graduation, he spent time teaching in both Pontiac and Avondale Schools before being hired back home in Ferndale in 1983 as the FHS Band Director. During his tenor within Ferndale Schools, Smith has also taught orchestra and choir in the high school as well as elementary strings at the Harding, Wilson, Washington, Coolidge, and Jackson schools. Smith was named Assistant Principal at FHS in 2005 and Principal in 2015.
As a fellow musician and educator, it has been a pleasure to work with Mr. Smith. I remember competing against Mr. Smith's marching band and always being impressed with what he was able to get his students to achieve. Mr. Smith is truly centered on his students and believes in each and every one of them. They know he cares about them.
Ferndale Schools Board of Education President Jennifer LaTosch had this to say: "Roger Smith has been an integral part of of the Ferndale Public School family for decades, as a student (FHS graduate of 1974), parent (his two sons graduated in 2005 and 2008), band and orchestra director, coach, teacher, assistant principal, high school principal, and so much more. Roger's quick smile and welcoming hello greet every-one who enters or visits our school family and ensures that all are met with compassion, dignity, and respect. It has been a true honor to get to know Roger, to witness the genuine relationships he cultivates with the students and staff, and to experience his love and commitment to the students and families of Ferndale Public Schools. We wish Roger nothing but the best in his retirement and look forward to seeing him around town and at future district events for years to come. On behalf of the Ferndale Public Schools Board of Education, we thank you, Roger!"
We will all truly miss Mr. Smith but hope that he continues to stay engaged at Ferndale High School. We will partner with the community to honor Mr. Smith's countless contributions at a special event later this year.