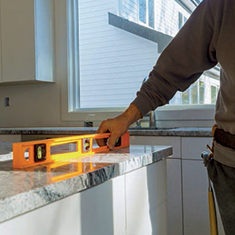 By Lisa Howard
Feeding Our Bellies and Our Souls
For millennia, the hearth and home have been inseparable*. Even before making sourdough breads and languorous meals became a sanity-saving way of living during 2020, the kitchen today's oven-centered version of the hearth — was the center point of most homes. "You use it every single day for breakfast, lunch and dinner," says Allen Bodiya, co-owner of Kitchen Concepts. "The kitchen has always been the heart of the home and it always will be. And now that people are home more, they want to make it theirs and enjoy it more. A lot of times, that means updating it to make it more functional."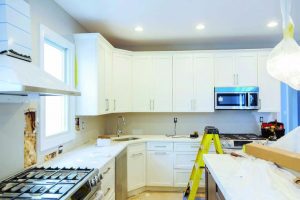 Of course, "functional" means different things to different people. Passionate home cooks might want to design their own kitchen "guts," as Allen refers to the organizational nitty-gritty details: Built-in cylinders for holding utensils, custom spice racks, pullouts for trash and recycling containers, etc. Every cabinet can be made to house specific items, including drawers that have niches for Keurig cups and others that slide open to reveal charging stations for iPads and smart phones. Or maybe an entire overhaul of cabinets, flooring, hardware, and countertops is in order.
BEFORE EVEN MEETING WITH A REMODELING COMPANY, Bodiya suggests looking for inspiration — check out homestyle magazines, photos online, maybe even attend a kitchen and bath show. They're virtual these days, making it easy to attend a show anywhere.) Walk through a showroom to get an idea of how the physical space looks and feels. Do you like the shine of chrome or are you more drawn to the warmth of wood tones? Think about possible color schemes and what aspects of the kitchen need to be refreshed or amplified. In other words, let out your Inner Design Wizard!
Once you have some ideas, it's time to have a remodeler come out to take measurements and brainstorm.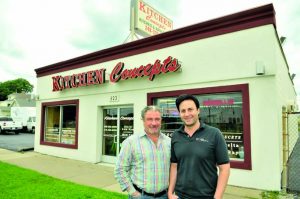 "I measure the space and get their ideas, and then we use a rendering program that lets me do a full-color, 3D design to show them what their kitchen will look like," Bodiya explains. He can quickly swap out colors and shapes and sizes, allowing a tour of multiple different virtual kitchen spaces.
For painted surfaces, any color is possible, although Allen says the trend right now is a minimalist, Shaker-style look, with lots of whites and grays along with navy blue, black, and other dark colors. Brushed gold and nickel have both become very popular as finishes for hardware like sinks and appliances, and quartz is all the rage for countertops. It's nonporous, so it doesn't need to be sealed the way a 100 percent natural stone would need to be and, as Bodiya says, "It gives you a marble look without the marble price." Quartz has also become a popular backsplash, although there's still a lot of love for subway/brick tile patterns.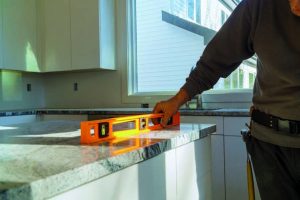 Some people opt for using maple, oak, or walnut butcher blocks as accents or on the side of the stove or an island. (Although if you're a fan of perfectly spotless countertops, butcher block is not for you — you'll see the marks of chopped veggies past.) And dining nooks and window seats with built-in banquettes are rapidly becoming the place to dine.
DEPENDING ON THE SIZE OF THE KITCHEN AND THE EXTENT OF THE REMODEL, creating the kitchen of your dreams takes four to six weeks. "A remodeled kitchen adds value when selling, but more importantly, it adds value and enjoyment to the experience of living in the home," Bodiya says. "When a kitchen is nicely remodeled and more functional, then you'll want to show it off and congregate there with family and friends." After all, being with family and friends is what a hearth is all about!
*-Exhibit A: Hestia, the Greek goddess of the hearth, the home and domesticity.