Professor Cooper's All-Natural Clean for Body and Home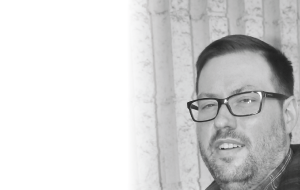 Professor Cooper's Wonder Clean is less than a year old and already growing tremendously. Making appearances in retail stores and selling online, the Wonder Clean line has grown to include surface cleaners, as well as body-care items and nearly everything in between.
Owner Chuck Cooper is dedicated to creating powerful products without resorting to harmful chemicals; an all-natural product at an affordable price. Although the company just launched in April of 2012, Chuck has been testing recipes and ingredients for two years. By following customer responses and growing the business in unexpected directions, Professor Cooper's Wonder Clean is only the beginning of a wondrous journey.
The idea of Professor Cooper's Wonder Clean was born when Cooper was 12 years old.
Digging through his parent's attic on a quest to learn about family history, Chuck found a diary belonging to a great uncle who lived nearly a century ago. The uncle was a scientist with an obsession for cleaning that
made him sound like he was losing his sanity. His recipes for cleaning solutions were made of all natural ingredients, and the trial and errors he documented inspired the young Chuck.
Although Chuck has dabbled with a few different career opportunities, he has found his natural cleaning products to be a fulfilling trade for a number of reasons. "I have always had an entrepreneurial mind," he explains. "Meeting new people at trade shows and seeing what they can do has been the inspiration to try new recipes and products."
Chuck found it motivating to replace unpronounceable chemicals with minerals from the earth and oils from plants. Using all-natural ingredients frees the home from the potentially dangerous chemicals that most cleaners use as main ingredients.
Unlike many organic cleaners, though, Professor Cooper's cleaners are both effective and affordable.
The cleaners are easily integrated into daily cleaning routines. Professor Coopers offers an all-purpose cleaner that can be used on floors, walls, and in the kitchen and bathroom. The surface cleaner is perfect for counters and tables. The dish soap, hand soaps, and laundry detergent come in a variety of scents that are long-lasting.
Each of the cleaners comes in large portions that are affordable on any budget. In addition to the natural ingredients, Professor Cooper's is dedicated to using recycled and repurposed materials for packaging and shipping. Post-consumer waste is used for the bottles and labels.
From the outside in, every step of the Professor Cooper's manufacturing process is dedicated to environmental responsibility.
Professor Cooper's has also branched out into body care. The beeswax lotion is the perfect moisturizer through these harsh winter months. An immediate best seller, the lotions have been met with many rave reviews and continue to be a fan favorite. The bar soaps have four unique scents and exfoliating ingredients for a deep clean. Natural lip balms are also available at unbeatable prices.
The variety of diverse flavors that Professor Cooper offers is ever growing as new scents are introduced seasonally. The Detroit inspired Ginger Ale scent is amongst the most popular, mixing nostalgia and hometown love for Michiganders everywhere. The Oatmeal, Milk, and Honey scent is a relaxing and comforting blend perfect for lotions and lip balms. The cleaners come in fruity scents including Pomegranate and Southern Peach. Those who prefer savory have Sage and Lemongrass, Lavender, and Vanilla Oak amongst their choices.
Besides the safe ingredients, the recycled materials and unique products, one of the benefits of buying Professor Coopers is supporting a small, locally owned company.
"An enormous portion of cleaning and skin care products out there are made by only three huge corporations," Chuck explains. "Detroit and Ferndale have a great history of supporting small business. Why not keep your money in your neighborhood rather than give it to a corporation where you'll never see it again?"
Each step of making Professor Cooper's products happens in Ferndale. The line is sold online and in retail stores in 15 different states.
Professor Coopers has made appearances at the DIY Festival and the Rust Belt market. Professor Coopers strives to be a part of the Ferndale community and have a personal con- nection with the customers through reviews and suggestions. Buy online at ProfessorCoopers.com and look for the brown bottles and barrel labels in retail stores near you.
If something happened with our soundness, we believe there is a solution to any maladies in a preparation. What medicines do patients purchase online? Viagra which is used to treat impotence and other states coupled to erectile dysfunction. Learn more about "sildenafil". What men talk about "viagra stories"? The most substantial aspect you should look for is "sildenafil citrate". Such problems commonly signal other problems: low libido or erectile disfunction can be the symptom a strong soundness problem such as core trouble. Causes of sexual malfunction include injury to the penis. Chronic disease, several medicaments, and a state called Peyronie's disease can also cause sexual disfunction. Even though this medicine is not for use in women, it is not known whether this medication passes into breast milk.