Oh Honey! Alison John Brings Sweet Goods to Ferndale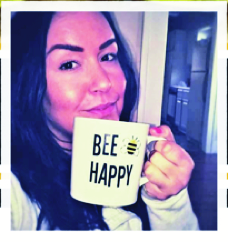 BY: Ingrid Sjostrand
HONEY IS A SWEET, DELICIOUS ADDITION TO ANY KITCHEN, but your generic grocery store jar isn't giving you all the benefits that honey has to offer and, chances are,
it's not best for the bees either.
That's where Alison John comes in. Her company, Honey Help, delivers pure, fresh honey products to homes through parts of Metro Detroit, all of which have been harvested from her hives in Richmond, Ferndale and Northville.
John's love for honey began growing up in Richmond, Michigan, despite a fear of being stung. After learning the difference between aggressive yellow jacket wasp and the less sting-hungry honey bee, she decided to start beekeeping and wanted to take the most humane approach.
Many beekeepers feed their bees sugar and water mixtures, but John learned bees can't metabolize sucrose and it causes the bees to get sick. She came up with a better solution.
"My process of beekeeping is to preserve the integrity of my bees first and foremost," she says.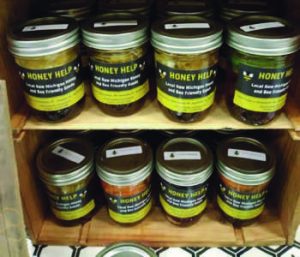 "I only feed my bee's their own honey. I figure they work so hard for it, they deserve it back! This is something I am proud of that sets me aside from others in this industry. I also use lavender or sage and dried leaves to smoke my bees when I harvest the frames. This is a natural and chemical-free way to harvest without causing the bees any distress."
FROM HER HARVEST, John creates her sellable jars starting at $13 in sizes from 10 oz. and up. She also creates lip balms, natural sunscreens and healing balms out of the remaining wax from her honeycombs.
On top of running Honey Help, John is a local emergency department nurse – embodying the classic "busy-as-a-bee" adage. She uses her medical background to increase the power of her honeys, making and selling holistic-infused varieties like French blue lavender honey, which can reduce anxiety, and pomegranate-infused honey, that has hormone balancing qualities for the thyroid and estrogen.
"In starting my business, I wanted to combine my love of honey bees with my background in Nursing and Holistic Medicine," John says. "By preserving one of nature's finest 'medicines' and being able to offer it to the public through farmers markets, various events and even free local delivery, I am proud to say that Honey Help is quickly becoming a household name."
JOHN HAS NO PLANS OF SLOWING DOWN And hopes to turn Honey Help into a Ferndale storefront where she can sell her Bee Friendly Goods and offer classes teaching children and adults about beekeeping and how to make your own lip balms and infused honeys.
"Lastly, for all of the work our bees do to help improve our ecosystem I find it only fair to help improve them as well. That is why I donate a portion of all delivery orders to www.thebeecause.net," John says. "They are an established group with the mission of preserving our honey bees, and teaching children and adults the importance of and need to preserve our endangered honey bee, and that is what Honey Help is all about!"
For more information about Honey Help and their local delivery schedule, follow them on Facebook or check out the Etsy shop:
etsy.com/shop/honeyhelpfarms.