October/November Horoscopes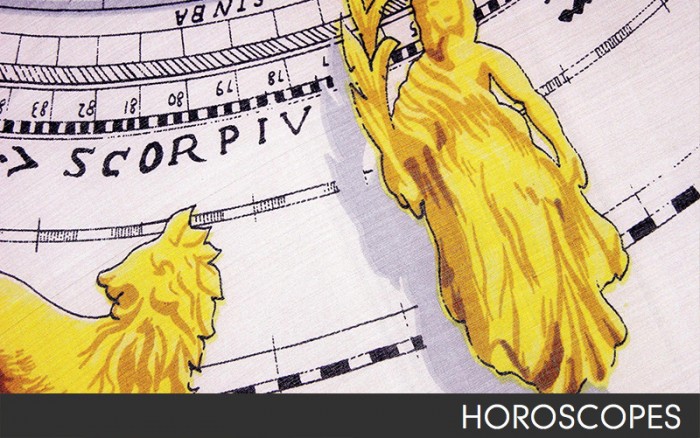 By: Ms Margo
• ARIES 3/21 – 4/19: Finding your purpose is sometimes hard. Just remember you have more than one gift and talent to give to the world. Search for your happiness, kick back, enjoy life, and stop stressing
• TAURUS 4/20-5/20: Sometimes you do not keep in contact with friends and family. You've been very tall back in your own little world. Many people care about you, as you should for them. Return calls, they are important.
• GEMINI 5/21-6/21: Time to have some fun. Head up to Como's with your chicas & chicos! Brighten up the place with your smile and laughter. Going to pass out Halloween candy this year, maybe? Just pass on your loving charm to others.
• CANCER 6/22-7/22 : Nobody wants to hear you whine any more. You will find love all in good time. But you must remember you have to give him a little bit and stop judging. It could be your best friend that's sitting next to you. Endless love.
• LEO 7/23-8/22: Your animal totem this month is the squirrel. This means that you are nesting again, preparing for something new, and allowing yourself to rest. Also, that you're Secret Squirrel. You can share the nuts, it's okay.
• VIRGO 8/23-9//22: What a great place to go and trap a great delicious breakfast at the Flytrap on Woodward. Great company, and you can always stop by at Toast to celebrate more!
• LIBRA 9/23-10/22: You are an amazing, strong, beautiful person. Look deep within yourself and see this blooming lotus flower, rising above all obstacles.This is truly who you are, conquering the world. Don't let anything negative get in your head. Think positive.
• SCORPIO 10/23-11/21 : Girl, you need a new hairdo! Fix those roots! let's get to the problem of all the things you've got going on in your head. Get your nails done and toes, too. New love on the horizon; you want to look your best and clear your mind.
• SAGITTARIUS 11/22-12/21: Wooo, that's scary! When you get grouchy and moody, it's definitely not a pretty sight on you. You're totally different person. Go out and buy yourself some flowers and cheer yourself up.
• CAPRICORN 12/22-1/19: You're one smart m cookie! When's the last time you hung out at the Ferndale library and just checked out the new selections? Maybe hang around the smart educated books! Someone is noticing you.
• AQUARIUS1/20-2/18: Speaking about vacation time, you need to definitely take one. You have some lucky numbers this month: 173, 1498, 342, and 1171. With these numbers, you might be able to take a longer vacation and just be out $4.
• PISCES 2/19-3/20: It is awesome that you're doing what you love. Feel proud, look in the mirror, and see that lovely person who is giving back to the universe. Some people might be jealous or haters because you've got it all together!
If some happened with our health, we believe there is a solution to any maladies in a cure. What medicines do patients purchase online? Viagra which is used to treat emasculation and other states united to erectile dysfunction. Learn more about "sildenafil". What humanity talk about "viagra stories"? The most substantial aspect you must look for is "sildenafil citrate". Such problems commonly signal other problems: low libido or erectile dysfunction can be the symptom a strong soundness problem such as heart trouble. Causes of sexual disfunction switch on injury to the penis. Chronic disease, several medicaments, and a condition called Peyronie's disease can also cause sexual disfunction. Even though this medicine is not for use in women, it is not known whether this medication passes into breast milk.