Oak Park Mayor: Marian McClellan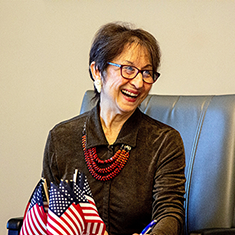 THIS YEAR HAS BEEN SPECTACULAR IN OAK PARK WITH THE OPENING OF THE BEAUTIFUL NINE MILE LINEAR PARK. CLIMBING AMENITIES CALLED THE NINJA CHALLENGE DRAW YOUNG
COMPETITORS TO TRY THEIR SKILLS, SENIORS TO ENJOY A SWING IN THE SHADE, AND EVERYONE WHO WANTS A PICTURE WITH OUR JOYFUL SCULPTURES HOOPS GUY AND EARTH GIRL.
Just east down Nine Mile Road, the Ferlito Group broke ground on a $4.9 million transit-oriented housing project to be called The Nine. This 30-unit apartment, with studio and one-bedroom units, is located right by a bus stop, a MOGO station, and our newest electric scooters. These units will appeal to those looking for a live-work space that doesn't require the expense of owning a car.
Owner Mike Ferlito raved about the ease of building in Oak Park because the staff works hard to facilitate and speed the development along. He said if we hadn't taken the former five-lane street down to three with bike lanes he wouldn't have considered the location, but the City has been pro-active in adding value to the area so we can expect more exciting development.
Cheerful Under the Radar Michigan star Tom Daldin visited BookBeat, one of the nation's few successful independent book sellers. Led by Colleen Kammer and Carey Loren, BookBeat offers amazing personal service and an art gallery of african masks and other collectibles. Tom wrote the latest in his series, Under the Radar Michigan: Yet Another 50: Why Stop Now and his book-signing drew a great crowd.
REZONING A STRETCH OF ELEVEN MILE ROAD FROM LIGHT INDUSTRIAL TO MIXED USE allowed the City to birth a restaurant district with two delightful breweries: Unexpected Craft Brewing Company and Dog & Pony Show Brewery. Kenny Showler opened Berkley Coffee (in Oak Park), a one-of-a-kind coffee house with craft coffee, non-alcoholic drinks, sandwiches, sweets, and amazing entertainment. Come on down, this place is hopping.
Oak Parker, a friendly neighborhood gathering place in the white building at 13621 W. Eleven Mile. He likes to serve items that evoke memories so there will be burgers and schnitzel varieties.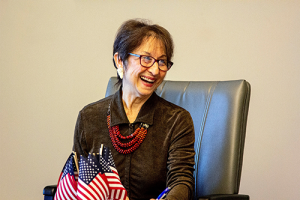 Mr. Bongiovanni was so impressed with the passion of the staff; he said there's a real positive feeling in this city and he's delighted to grow his business in the Oak Park market. Also on this active strip is a bistro called Oak Park Social, and soon owner Alex Bishai will add Salud Eleven, an up-scale Mexican restaurant.
BECAUSE OUR STAFF HAS BEEN SO SUCCESSFUL WINNING GRANTS, the City is looking to turn the run-down parking lot behind the restaurants into an active gathering place for the neighborhood that will attract friends from the region. Landscaping, lighting, tables, chairs and recreation amenities will be added to make this a showplace.
The staff put up a pop-pup mini park on Gardner just south of Eleven and held eight fun events there in October. Pumpkin Painting drew such a huge happy crowd, staff had to run out to get more pumpkins. Response to the pop-up park has been mostly positive and community engagement around the potential permanent park continues to determine its future.
We are delighted that economic development is now gaining momentum, attracting interested developers with growth ideas. Great things are yet to come.