Margaux & Max: Great Finds at Good Prices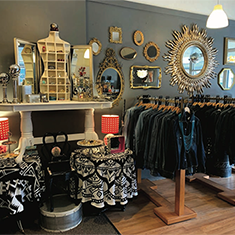 WHEN CUSTOMERS ENTER A CLOTHING STORE, they can be full of expectations. They want gloves that compliment a coat, or shirt or blouse that matches a pair of pants. Or their mission is bigger, to come across an array of suitable patterns and styles for a wardrobe calling out for new selections.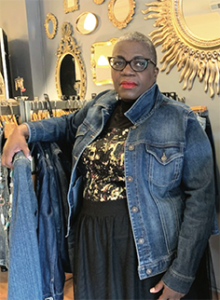 No matter, owner Je Donna Dinges of the resale boutique Margaux & Max "has you covered." Her shop offers a variety of "previously-loved fine women's contemporary and vintage clothing, shoes, and accessories" at prices only a fraction of their original cost. The shop carries classic, casual, and formal wear available in sizes that range from 00-24W. Top brands include J Crew, Ann Taylor, BCBG, Banana Republic, Talbots, and many others.
An equally impressive find in Dinges herself. When customers talk to her, they may get a chance to hear her story full of several challenges. Her courage and business savvy have seen her through tough times. These traits exemplify her status as a leader, mentor, and activist in the community.
How did you get interested in fashion?
I have a background in retail, about 30 years of it to be exact. Most of my retail experience has been in management. I have always loved fashion. As a kid, I would make color swatches using pieces of cardboard and my Crayola crayons. I'd often mix the colors together to get the perfect shade; then my mom and I would shop for tights, shoes, etc. from the swatches. I read Vogue, Glamour, and Harper's Bazaar. Fashion makes me happy!
With eBay, Etsy, and other online markets for buying and reselling clothing, why did you decide to open a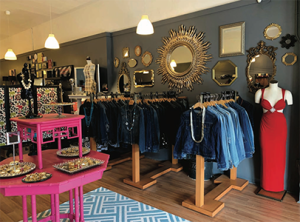 brick-and-mortar store?
Online shopping is great! We offer an online shopping component with our Facebook live, but it is different from eBay, Amazon, and the like. We provide a high level of customer service, even when we are working with our clients online. People can buy clothing and accessories anywhere. Shopping at Margaux & Max is not about buying stuff; we offer our clientele a full-service shopping experience. I work with clients one-on-one to help them find the perfect pieces to fit their body types, skin tones as well as their budgets. People keep saying, "Retail is dead!" Retail isn't dead. Bad retail is dead!
How long has Margaux & Max been in business? How did you come up with the name? How did you find the location for it in downtown Ferndale?
Margaux & Max has been in business for seven years. I started it at my dining room table with one pair of earrings and a Facebook page. The name comes from two beloved pets. Margo was a German shepherd / husky mix that my parents had when I was growing up. I liked the French spelling better, so I used that. Max was a cat that my ex-husband and I had for 15 years. They have both crossed the rainbow bridge. I'm friends with Heatherleigh Navarre, the owner of the Boston Tea Room. When she moved out of the space, she suggested that my realtor (Rachele Downs) and I look at it, and the rest is history.
Some people dread shopping. How do you attract them to your store? What sets you apart from other retailers?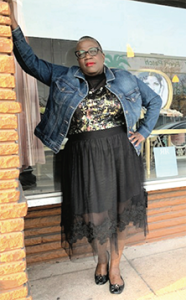 I work to first earn each client's trust. I have a knack for looking at someone and knowing what size and style works for them. I am a student of my business/industry, so that means that I present myself as a trusted advisor, a stylist. Fabrics, colors, styles, trends are what I pay attention to so that I can help every client find amazing pieces every time they visit our showroom. I offer clients an opportunity to shop with me one-on-one, so the angst some women feel when shopping in large stores is not an issue. I pull pieces that I know will fit them well. The biggest challenge our clients have is deciding what to leave behind!
How do you feel about your space? Any longterm goals for it?
I love Ferndale. The people are so friendly and supportive of small businesses. We painted the space when we moved in. We just finished painting the outside as well. I love updating window displays to keep the store looking fresh, and to keep people excited about what we have to offer.
You were featured in March on the radio about your neighbor in Grosse Pointe Park using racial intimidation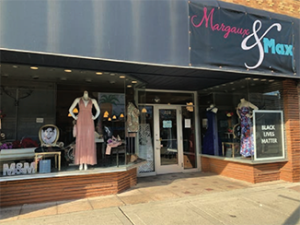 tactics against you. What can be done to help others in your circumstances?
My neighbor put a KKK flag in his window, facing my home, in February. The prosecutor could not charge him, and the Grosse Pointe Park Police Department seemed to be running interference for him. I was very vocal in speaking out against him and the Department (which was all-white). I started a letter-writing campaign to demand that the Department become diverse to reflect the community that it serves. In June, they swore in a new chief who is committed to diversity and inclusion. They also hired their first Black officer. Last week, I was invited to sit on the G.P.P. Police Department's citizen's advisory board. I would tell people who are dealing with discrimination to make noise! Don't stop fighting until they see changes!
Any advice for those wishing to follow in your career path?
Be prepared to work harder than you ever thought possible! I work very hard, but I absolutely love it.
Located at 224 West Nine Mile Road, Margaux & Max is open for virtual appointments.
To schedule an appointment, call 313-221-6434.
Check out its Facebook live events each Friday at 8 P.M.
The web address is www.facebook.com/margauxandmax.
For more information on store events and displays, you may also follow margauxandmax on Instagram.