Celebrating 10 Years (Again) Ferndale Pride
By Kevin Alan Lamb
I BELIEVE THE PANDEMIC HAS GIVEN EACH OF US A better understanding of what is meaningful in our lives, that which we take pride in, and those who comprise our tribe.
They say absence makes the heart grow fonder, and the prevalence of absence within our community, along with the events that help define its character, delivered a gut check that we will continue to recover from.
Unable to attend concerts, sporting events, and pastimes like Ferndale Pride, many were denied access to their community, and to the very ingredients which breathe life into their blood. Accessibility and inclusiveness are two qualities that Julia Music, Executive Director of Ferndale Pride, builds their foundation upon.
"One of the main things we try to do is engage the entire community, so we will have a number of organizations representing the LGBTQA. We were not able to get all of them, but we were able to get LGBTQ represented from different groups. Also, we have lots of different political backgrounds, lots of different religious and non-religious backgrounds represented in our non-profit booths. That is a big component in making sure our Pride festival is very inclusive.
We also have a lot of medical and social services available throughout our Pride festival. We will have STI testing on the street with the Matrix MAC Health Mobile Unit, and free COVID vaccines going this year so people who want to get a vaccine can come get one."
New to Ferndale Pride this year, in addition to it taking place on Saturday, October 2, will be a third stage programmed inside 215 West Ferndale.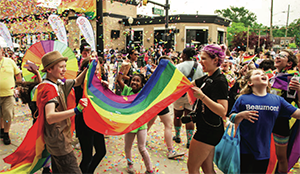 "We are very lucky that Liv Cannabis bought the main stage, and Green Buddha and Thoughts & Prayers are putting on the DJ Dance stage. They are very excited to be joining us this year for the first time ever. We will have 187 booths, and they are all sold out, totally full. Over 200 volunteer slots will be filled by lots of people, helping out, getting the day going, and that is really exciting to see."
IF PEOPLE WANT TO HELP, THEY CAN VISIT FERNDALEPRIDE.COM where they can sign up to volunteer or donate. They will begin working on Pride 2022 in November.
"A silver lining that emerged from these pandemic times: We got to see places like The Candle Wick Shoppe, which is a small business in Ferndale, come back for the third year with their naming rights sponsorship, ensuring we could actually put on the event because that takes care of a large chunk of our expenses. We have really been lucky that so many businesses were able to do well during the pandemic and come back to support us, and that contributes to the fact that we are not charging again this year at the gate. There's no gate, actually – you can just walk right in, free of charge. Bring your whole family because of our fundraising efforts and our sponsors."
Other events happening in conjunction with Ferndale Pride include an interfaith prayer service on October 29, from 6:00 PM to 7:30 PM at Schiffer Park. A multitude of different religions will be represented in prayer for a good Pride festival.
"MotorBall has moved Pride Weekend, so that will be a ticketed event that you can purchase tickets for if you're interested in going to all of those club events. TG Detroit will put on their Invasion during Pride so transgender men and women and their allies are welcome to buy tickets for those events. Lots of things to do throughout the week and weekend and we are just very excited to bring Pride back to Downtown Ferndale."