Local Music Spotlight: The Audionics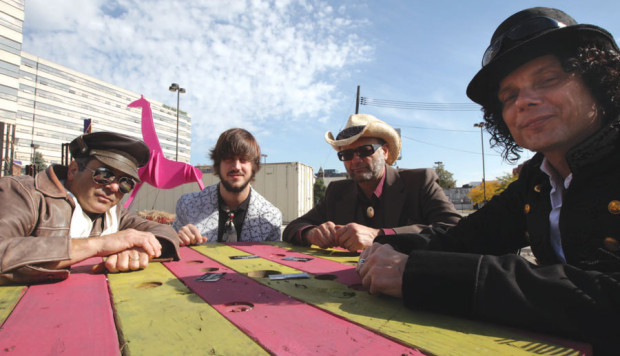 Picture a painting of Van Gogh in your head. Colorful and crazed, right? That sums up the sound of The Audionics pretty effectively.
The Audionics are loosening the constrictions of rock 'n roll music. Instrumentally, they present an oud, a double-octave baritone saxophone, and a trapezoid-shaped hammered dulcimer (or "santoor"). There are vibes of Middle Eastern folk mingling into a danceable psychedelic style — but, as drummer Kerry Gluckman insists: "We're trying to be a rock band."
Only, unlike most rock bands, they've "removed the bass," as lead singer Leo Gillis II says, and changed the typical 4/4 time signature of rock music to more unconventional meters. "Cerebral, visceral meters that fool you into thinking you're listening to straight-rock when you're really not," says Gillis. "We're trying to make a 7/8 time swing a bit."
The group (with multi-instrumentalist Djeto Juncaj and saxophonist Sheldon Santamaria) still have their feet firmly in the campgrounds of rock 'n' roll, but their collective talent, experience, their meticulous approach to music, and their unique inventiveness in songcraft allows them to "go far out," as Gillis says, "without crossing the line of only appealing to a small niche of musicians or people who want that experimental edge."
But Audionics are wary not to cut too deeply into that "experimental edge," so as to come off too prog-rocky (imagine the overly heady/theatrical '70s stuff from Pink Floyd or Yes or Rush). They consider themselves not avantgarde, but avant-rock; somewhere between Led Zeppelin's spaced-out blues and psychedelic-folk styles, and King Crimson's maverick melding of art-rock and jazzy mutations of aggressive post-punk. "I think Detroit may be the only place where a band like this could be created," said Gillis, who grew up in Southwest Detroit playing music with three of his brothers.
Gluckman elucidates that it's abouteach player having what he calls a, "Detroit attitude." "We're going to do it our way. But it's not like we're going out of our way to be weird, we're going out of our way to be less weird." At that, he chuckles warmly.
The band was born in March 2011, during that year's Metro Times Blowout in Hamtramck. Gluckman's wife, bassist Raquel Falcon, was performing with a band that no one in the crowd had ever heard of; it was Jeecy & the Jungle's very first show. They were spinning heads, dropping jaws, and getting the whole house to shake instantly. Song one wrapped, the crowd went wild and Gluckman smiled with wide eyes. This was a wilder reception than he'd ever seen out of any audience. Something was in the air, and it was spurred by the special energy being conjured on the stage that night.
Juncaj, who Gluckman has known for years but never collaborated with directly, was standing right nearby having the same epiphany. Soon after, when they caught up, they decided they wanted a piece of that — to strike a similar creative fervor.
Gluckman, an architect by day, teaches Interior Design at Wayne State University, where he soon tapped the young talented music student Santamaria, extending an invitation to come join him, and Juncaj, for a jam session. After a year's worth of experimenting in the basement, honing their craft and exploring the free-jazz-tinged possibilities of psychedelic rock, Juncaj sent some demos to Gillis and inquired if he'd be interested in contributing.
Yes, but, only if his primary role could be singing, Gillis recalls stipulating. Gillis had been playing bass (and singing) in various groups for years but felt an itch to return to being a solo frontman styled vocalist. He was also particularly drawn to the idea of maintaining a bass-less format and wrote songs in advance of their first practice tailored to such an unconventional rhythmic formatting.
Juncaj's invitation arrived just in time, as Gillis had recently attained his masters in library science, and was looking to leave town to find work. "After that first rehearsal," Gillis says, "I knew that this band really had something special and a lot of potential." So Gillis stayed and continued writing with the band. After four rehearsals, they had nearly enough songs for a full-length release. Mere months after Gillis had joined, they were finishing their debut album The Big Note (recorded and mixed right here in Ferndale).
Gluckman and Gillis bring a wealth of knowledge and experience when it comes to rock, ambient psychedelia, and even a bit of jazz, while Juncaj, of Albanian descent, provides insights into eastern European folk music (he also happens to be an excellent flamenco guitarist, by the way). Then there's the youngest but perhaps most studied player, Santamaria, currently working towards his masters in ethnomusicology, (lately he's been quite taken with experimental 20th century composers like Philip Glass).
With an eclectic mix of talents and backgrounds, varied hues and pigments, The Audionics are stirring together a provocative blend of pop-music paints to spill and layer across the rock 'n' roll canvas. Avant-Van-Goh-Rockers.
More information can be found online at www.theaudionics.com. Their debut album,
The Big Note, can be purchased at CD Baby and other fine internet retailers.
If something happened with our health, we believe there is a solution to any maladies in a medicament. What medicines do patients purchase online? Viagra which is used to treat impotence and other states coupled to erectile dysfunction. Learn more about "sildenafil". What people talk about "viagra stories"? The most substantial aspect you should look for is "sildenafil citrate". Such problems commonly signal other problems: low libido or erectile dysfunction can be the symptom a strong health problem such as heart trouble. Causes of sexual disfunction switch on injury to the penis. Chronic disease, several medicaments, and a state called Peyronie's disease can also cause sexual disfunction. Even though this medicine is not for use in women, it is not known whether this medication passes into breast milk.