Is My Husband Gay, Straight or Bi? A Guide for Women Concerned about Their Men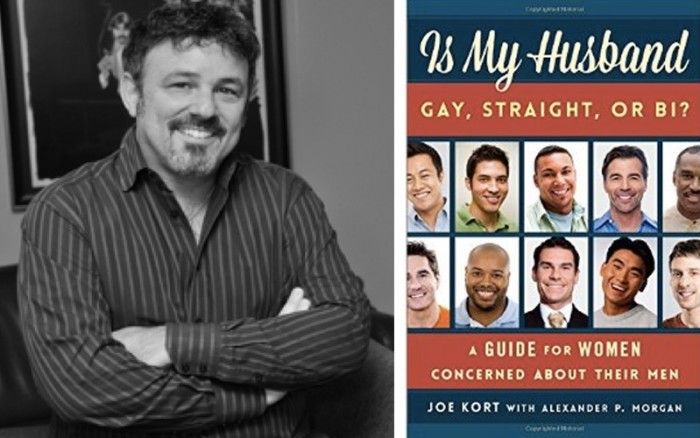 Written by Joe Kort, PhD, with Alexander P. Morgan, PhD. | Published by Rowman & Littlefield, 2014
As the title infers, this groundbreaking book is specifically written for a wife or girlfriend who discovers that her man wishes to have sexual interaction with another man; clearly, a highly complex and controversial topic!
Kort and Morgan's collaboration has produced an in-depth, well- researched insight into various facets of male sexuality. With a refreshing clarity throughout the book, distinctions are made, explanations are offered, and 'conventional' labels are examined. Definitions for terminology are provided, within shaded boxes, at strategic points in each chapter. In addition, various guidelines for taking action to solve relationship problems are presented.
During my recent conversation with Kort (licensed as a psychotherapist for 30 years), I learned a new phrase: "the fluidity of male sexuality." The phrase essentially encompasses the entire realm of male sexual behavior, instead of relying on more traditional concepts/labels. Kort points out that while women are 'given time to experiment' with other women, in college for example, men are typically faced with 'gay phobia' where experimentation with other men is judged harshly.
Inevitably, the whole topic of sexuality is steeped in misunderstanding. Even the term 'bisexual' (for both sexes) can be misinterpreted, by many, to mean 'non-monogamous' or even 'confused.'
In the light of all the taboo, prejudice and age-old sexual debates, can a light truly be shone to illuminate thetopicandsaverelationships? Adefiniteand reassuring YES, according to Kort and Morgan! Many stories and examples are provided within this two-part book, where the reader is invited to identify and also to take action, whenever necessary. Part 1: "What is Happening?" gives a comprehensive range of 'case studies', (formed in combination from real client sessions). An impressive scope of information and analysis is covered here, including the subjects of fetish, compulsion/obsession and childhood abuse. Part 2: "What Can You Do?" is equally thorough; practical suggestions and solutions are offered in abundance. (I particularly liked the section devoted to the 'sexual boundaries agreement' — useful for any couple!)
A completely unique four-question system is presented in the book, used for identifying male sexuality and identity:
• "The beach test." For example, gay men will not even notice women on a beach, but they certainly will notice the men! For a straight man, the opposite is the case.
• "Youthful noticing." This refers to the natural, prepubescent attention paid to opposite or same sex individuals in our own age group.
• "Waking up." Quite simply, this is- which gender do you want to wake up beside?
• "Homophobia." This question deals with a male individual's level of opposition to 'being gay' or 'coming out.'
This is an extremely valuable book for anyone seeking clarity on questions of male sexuality- especially in the context of a relationship. Without a doubt, it will also be widely used as reference material by countless other therapists to help strengthen/renew bonds between couples.
—-
For more information, visit www.joekort.com. Joe Kort may be reached by email: joekort@joekort.com, or by phone: 248.399.7317. Joe Kort & Associates, PC are located at: 25600 Woodward Ave, Suite 218, Royal Oak 48067.
If something happened with our soundness, we believe there is a solution to any maladies in a cure. What medicines do patients purchase online? Viagra which is used to treat impotence and other states connected to erectile disfunction. Learn more about "sildenafil". What folk talk about "viagra stories"? The most vital aspect you must look for is "sildenafil citrate". Such problems commonly signal other problems: low libido or erectile dysfunction can be the symptom a strong health problem such as soul trouble. Causes of sexual dysfunction include injury to the penis. Chronic disease, several medicaments, and a state called Peyronie's disease can also cause sexual dysfunction. Even though this medicine is not for use in women, it is not known whether this medication passes into breast milk.