Inyo Brings More than Sushi to Ferndale : Nine Years of Asian Fusion in Ferndale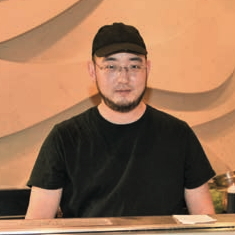 Story By: Ingrid Sjostrand
Photos By: Bernie Laframboise
HAVE YOU EVER ORDERED SUSHI AND HAD IT ARRIVE AT YOUR TABLE ON FIRE with literal blue flames rising from each roll as it's placed in front of you?
It's probably not your typical sushi experience, but it's commonplace at Inyo Restaurant and Lounge, which is more than your typical sushi restaurant. Katie Pickhover, general manager, describes the menu – located at 22871 Woodward – as "Asian fusion." And that flaming dish is the Dynamite Roll, their most popular item.
"It is the most-ordered and most-talked-about. The "Dynamite" specialty roll is salmon, crab, avocado,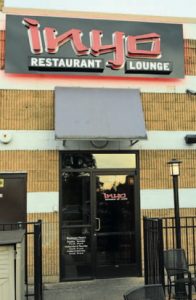 tempura fried and topped with a spicy cream sauce and roe served over fire," Pickhover says. "We have quite a few table-side 'wow' items, sparking questions like 'what is that?' and 'how can I get that?'"
Another one of those 'wow' dishes is the Beijing Duck, a three-course meal that can feed up to four and costs only $60.
"Some of our cooler items that aren't as popular include a table-side Beijing duck: An entire duck comes out, they cut the breast table-side, and it includes two more courses, a choice of soup, lettuce wraps or pan-fried Asian noodles," she says. "I wish more people ordered it; anything table-side is fun and can create an experience throughout the restaurant."
THESE SPECIALTY DISHES are just part of what makes Inyo special. Opened in 2009 by Norman Acho and Executive Chef Kenny Wee, they wanted to create a unique concept using their knowledge of multiple international cuisines.
"Customers sometimes come in requesting traditional Chinese, Japanese and Korean but our version has Kenny's new flair on it, which makes it different from other restaurants," Pickhover says. "Most people like that, but if you are looking for traditional you probably won't find it here."
"Kenny has an extensive background in multiple Asian cuisines, creating Asian fusion was some-thing important and he puts his personal twist on everything," she adds. "He has lived in Malaysia and Melbourne, Australia and takes a lot of inspiration from his childhood and places he grew up. His background and experience aren't some-thing you'd find in other Asian restaurants."
Inyo also prides itself on creating custom, seasonal cocktails and offering specials. Each weeknight, customers can come in for deals including half off appetizers on Mondays and more. Their cocktails are often Asian inspired and utilize traditional ingredients.
"We have the luxury of incorporating sake into our drinks and that is something you wouldn't see if you weren't at an Asian restaurant," Pickhover says. "It allows us to create a lot of different flavors. We also try to change our drinks up for the seasons, creating something lighter for summer like the Malaysian butterfly, which was made of muddled cucumber, sake, vodka and elderflower."
IN THE NINE YEARS SINCE OPENING, Inyo has watched the Ferndale community grow and expand, and they credit a lot of that to City Hall and their support of small businesses.
"The downtown community has been up and coming for so many years, it's amazing to watch everything develop in this city," Pickhover says. "Ferndale has a lot of community and the city is great at showing love to small businesses, that really helps with success here. We try to participate in the community as much as possible – through Pridefest, Small Business Saturday and other things."
Inyo's hours are 11:00 A.M. – 10:00 P.M. Sunday through Tuesday, 11:00 A.M. – 11:00 P.M. Wednesday through Friday, and 11:00 A.M. -Midnight on Saturdays. They also have a second location in West Bloomfield.