Ferndale's Peacebuilders : Helen Weber and Frank O'Donnell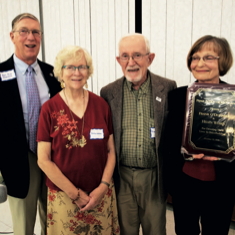 Story By Rebecca Hammond  Photo By Dwight Cendrowski
ONE DOESN'T USUALLY EXPECT A FEELING of mild intimidation associated with the task of interviewing two renowned peaceniks.
Sometimes, however, you can find yourself anticipating a conversation with a real sense of awe.
THAT'S HOW I FELT LAST WEEK, walking over to visit local Peace Action members, Helen Weber and Frank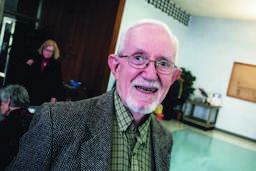 O'Donnell. An article on Helen and Frank's work could have been done at any time, given their dedication. But they happen to have just won a Lifetime Achievement Award, as "Peacebuilders," presented by Peace Action of Michigan.
Helen currently runs Peace Action's board and Frank is treasurer, but each has spent time in various roles. Michigan's office, in the Pioneer Building on West 9 Mile in downtown Ferndale, is an affiliate of the national organization, which Helen also once co-chaired. She visited Washington several times a year and weighed in on issues in conference calls. Frank told me that the national organization "started in 64. Right after the first Nevada (atomic) test, Eleanor Roosevelt and Albert Einstein realized that something extraordinary had happened, and they formed the group.
"In the '80s, here in Michigan, there was a group called the Nuclear Freeze. Nuclear Freeze and Peace Action combined and then became Peace Action."
Helen and Frank have been involved for so many decades, they were unsure of the exact year they got started. Frank thought it was "probably in the mid-to-late 1980s. We have a good friend, Deborah Williamson. She was very active with Nuclear Freeze and she saw that the merger [with Peace Action] wasn't really going that well, so she invited us to a two-day workshop at Schoolcraft Community College and that's where we met the whole group. Debbie was also on the school board with me."
Helen added that this was when they got to know Doug and Pat Lent, the namesakes of the Peacebuilder Celebration where the lifetime achievement award was presented. Like many of us who join a group, Helen and Frank were just members at first, leaders later. Helen said, "I guess we were just interested in peace."
One commitment led to another.
Frank: "We got involved with a group in Detroit that was part of the national opposition to the Vietnam war. We just had some friends who introduced us to all of that.
We met the great Morris Gleicher (a former president of the Michigan ACLU); his daughter Elizabeth was just reelected to the Michigan Appeals Court. It was just the person-to-person contacts over the years."
HELEN TOLD ME THAT A GOAL OF PEACE ACTION is to "always try to involve more of our members and reach out to more people around the state who can be involved. If it turned out there was a good nucleus in some other part of the state, they could be an affiliate. To the extent that someone was interested, we could work with them to set up their own chapter." Frank added, "There are three centers outside of Detroit where we have a lot of members: Kalamazoo, East Lansing, and Traverse City."
Peace Action is now attempting to engage more of the younger generation. Here's one way. "At this dinner they announced a new scholarship, The Frank O'Donnell and Helen Weber Young Adults for Nuclear Abolition Scholarship, for either a student or a teacher with the goal of assisting this communication, how to work together with the younger generation." Helen added, "We need to help that happen. The fund has been established and donations have been made, and that's going to enable us to do more with a new group." A committee is forming to work out the details of the application and award process. A Detroit tradition called The Buck Dinner, started decades ago by a group of civil rights attorneys, will provide some of the funding.
Helen and Frank are fond of several of Peace Action's ongoing projects, including the Monday-afternoon gatherings at Woodward and 9 Mile (15 years and counting) and the 2,000+ plus members of their statewide-and-beyond mailing list, who receive the quarterly newsletter. But there are some disappointments, a major one being the Iraq war. Peace Action of Michigan sent buses to large protests in New York and Washington, but "it was sad that we weren't able to be more effective in slowing it down or stopping it," Frank said.
Helen said she was always interested in peace, and Frank remembers being taken at age seven by his dad to picket with the UAW at the Dodge plant in Hamtramck. He mused that now at age 87 he and Helen are still involved with issues in Hamtramck, one being a mural for the Bangladeshi community there, who Frank called "marvelous, lovely, and dedicated." These are words that could not apply more to Frank and Helen themselves.
Were they surprised to receive this year's award? Helen said, "Yes. I think this was the sixteenth year our mission group has done this and sometimes there might be three or four people. It was kind of unusual that it was just two people, but we're a package."
They are indeed, one that greatly benefits our community. Well done, Helen and Frank.