Hazel Park Fins Hope in Art & Community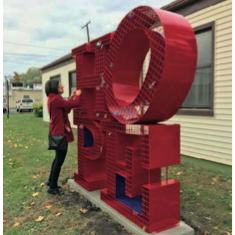 By: Ingrid Sjostrand
Hazel Park is using the power of a word to promote positive, inspiring change in the city and the word they're wielding is "HOPE."
Through a permanent art installation inspired by the work of Robert Indiana and his famous "LOVE" sculpture in Central Park, the bright red, metal piece spelling out the letters of HOPE sits in front of the Hazel Park Historical Museum, 45 E Pearl, for all to see and create their own meaning.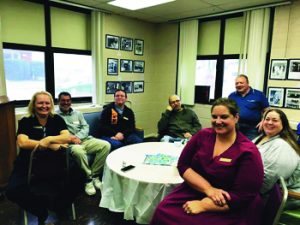 The project is a collaboration of several organizations in the city, including the Hazel Park Historical Commission, Hazel Park Creative Arts which funded the project, and the Community Engagement team. Superintendent of Hazel Park Schools, Dr. Amy Kruppe, says the team effort made this project possible.
"We have a beautiful Community Engagement committee here in Hazel Park, and we've been talking about doing city art projects because our team is really about developing and bringing the city together," she says. "This piece is just a centerpiece expressing that we're all hopeful. Without great communities, schools and organizations you don't have a great city. You have to have all those pieces together."
The sculpture was built by local artist Richard Gage and his team and sat in front of Tony's ACE Hardware, at 24011 John R Rd, through the month of October for the City's "Artober" event. It was painted, moved and unveiled at an event on Saturday, November 5th in its new home at the Historical Museum. During the event, over 60 locals purchased and painted locks to attach to the HOPE piece.
"This is really a tribute to Robert Indiana. My association with it is not on a creative level, I just executed it and helped pull the team's ideas together," Gage says. "It's important for me as an artist that the proper credit goes to who it belongs."
THE MUSEUM WAS CHOSEN FOR ITS SIGNIFICANCE TO HAZEL PARK and also for its location, says City Council Member, Bethany Holland, who also serves on the Board of Creative Arts as well as the Historical Commission.
"That section of road right there – so many people go by it or have to stop in traffic and are going to see that. My goal is that people will see the sculpture and whatever's going on in their world at that moment, that word is going to be burned into their brain," Holland says. "Whatever you're going through, there's hope."
The inspiration for adding locks to the piece came from Kruppe at a time in her life that could have felt hopeless. In October 2017, her husband Frank was diagnosed with lymphoma and they spent a year traveling to the Mayo Clinic in Minnesota, where an art installation was created with painted locks. She shared the story of the project in Hazel Park and HOPE was born.
"It was a really difficult time. It was the hardest year I've ever had, but Frank is now in remission and the beautiful thing about this sculpture for me and my family is that out of all of this grows hope and I hope that's what this art project is going to bring to Hazel Park," Kruppe says.
People are encouraged to continue to add locks to the sculpture, which can be purchased from the museum during open hours (the first Sunday of each month from noon to 4:00 P.M. and the third Thursday from 6:00 to 8:00 P.M.) Tony's ACE Hardware also sells locks for $3.59, with $2 of every purchase donated to funding after-school activities for Hazel Park Schools.
For more information about the sculpture and additional lock painting dates, follow the Hazel Park Historical Commission & Museum and Hazel Park Creative Arts on Facebook.