Habitat for Humanity: A Decent Place for Everyone to Live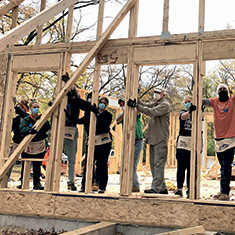 By Sara Teller
Habitat for Humanity for Oakland County (HFHOC), headquartered in Pontiac, is an affiliate of Habitat for Humanity International (HFHI) and is dedicated to carrying out the mission to help create "a world in which everyone has a decent place to live."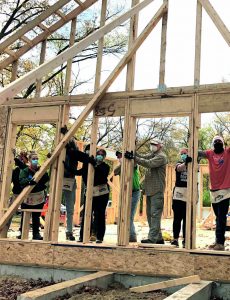 HFHI is a global housing nonprofit that operates in nearly 1,400 communities across the United States and approximately 70 countries around the world. Since 1995, HFHOC has helped more than 900 low to moderate-income residents gain access to safe and affordable housing, focusing primarily on providing services in Southfield and Pontiac.
"Through our programs, we practice the philosophy of 'a hand up, not a handout,' by partnering with home-buyers and homeowners to purchase a safe home with an affordable mortgage or complete necessary projects at a modest price," explained Katie Brumfield, HFHOC's Marketing & Communications Associate. Programs include offering affordable home ownership opportunities for families making 50 to 80 percent of the area's median income, financial coaching, critical repairs, and neighborhood revitalization initiatives.
HFHOC has several local events in the works for 2021. The nonprofit plans to hold three Rock the Block events June 3 and 5, August 5 and 7, September 30 and October 2, which will bring together homeowners, volunteers, community sponsors, and Habitat Oakland staff to offer minor exterior home repairs to homeowners.
"Volunteers work with Habitat's construction staff to repair porches, install fences, replace cracked concrete, clean gutters, and complete lawn clean-up." Brumfield said, adding, "This program ensures that homeowners reside in safe housing, enables seniors to age-in-place, maintains and increases home values, and fosters neighborhood stability."
Later this fall, on November 12, HFHOC will also hold its Annual Fall Gala. Planning is still in the works, and the Events Page at www.habitatoakland.org/events will have more information in the near future along with any other upcoming HFHOC happenings.
HABITAT FOR HUMANITY FOR OAKLAND COUNTY HAS MADE a significant impact in local communities over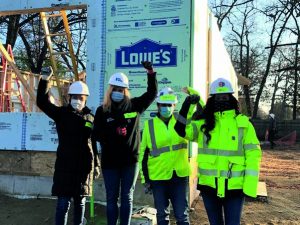 the past year, in general, despite the pandemic. In March 2020, HFHOC was forced to suspend volunteer activities, closing their ReStores except for virtual sales with office staff transitioning to working from home. Since that time, however, it has developed a strategy aligned with new COVID-19 guidelines, reopening closures, and hosting two Rock the Block events in 2020, completing over 100 external projects at 25 homes.
"2020 marked our 25th anniversary," Brumfield said. "Habitat for Humanity of Oakland County is proud to have adapted, reacted thoughtfully, and ended 2020 ready to continue our mission in 2021. The need for affordable housing for low to moderate income individuals and families has never been more urgent. We are excited to continue building homes, communities and hope for our friends and neighbors." She added, "Despite the challenges, we stayed focused on and continue to work toward our vision of a world where everyone has a decent place to live. Oakland County needs the stability and hope that decent housing and equitable access can help foster."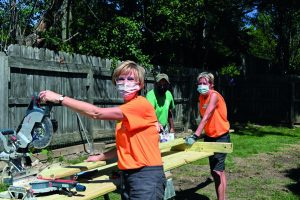 The organization also received grant funds in 2020 to launch a much-needed home repair program. Brumfield explained, "Through a sizable grant from Oakland County and United Way for Southeastern Michigan, we were able to launch a critical home repair program in September 2020 that provides needed exterior repairs for homeowners in Oakland County so that they may maintain a safe, decent and affordable place to live. Our new Roofs, Ramps & Repairs Program enables us to serve a broader audience."
Businesses interested in learning more about how to partner with HFHOC can call 248-318-5491 or email annd@habitatoakland.org. Rock the Block 2021 sponsorship opportunities are currently available. Individual volunteer opportunities are also available at habitatoakland.org/volunteer.
"In addition to volunteering, individuals can shop at or donate to our ReStores," Brumfield said. "We also encourage you to stay up-to-date by liking and following us on Facebook and Instagram."