Gerrymandering Petition Drive Off To Roaring Start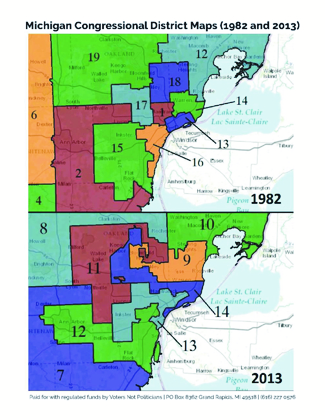 ORGANIZERS BEHIND THE Voters Not Politicians petition drive to end gerrymandering in Michigan are reporting an explosive response to their efforts. (See The Effort To End Gerrymandering In Michigan in the Fall 2017 Edition of Ferndale Friends.)
"We are excited about the out-standing efforts of our all-volunteer petition gatherers, and are confident we will be able to turn in sufficient signatures before the end of the year," said Katie Fahey, President and Treasurer of Voters Not Politicians. "Citizens are unhappy to learn that politicians get to choose their own voters instead of voters choosing them. Michigan is ready to end the extreme parti-san gerrymandering by both par-ties that robs voters of their constitutional rights to hold representatives accountable at the ballot box."
Gerrymandering is the legal process by which the political party in the majority redraws voting district lines in order to benefit their candidates at the expense of the candidates of other parties.
The grassroots organization's 100 per cent volunteer petition circulation team collected over 160 thousand signatures in just five weeks. That's a pace of over three signatures collected every min-ute. They have now collected over 350,000 unverified signatures.
"We have come a long way in just a few short months," said Fahey. "Not many people thought we could gather sufficient signatures with volunteers. We're proving them wrong. Now we are preparing to protect our petition from partisan elites who want to deny to the public the transparency and citizen involvement our proposal will bring to redistricting."
In response to expected opposition from establishment organizations opposed to their efforts, Voters Not Politicians has hired Fraser Trebilcock, a noted law firm in Michigan, to bolster its legal resources. The public relations firm Martin Waymire (which has managed a number of successful statewide ballot campaigns) will also assist with communications and other aspects of the campaign.
The initiative campaign needs 315,654 valid signatures to reach the ballot. Although the signatures are being checked against voter databases to re-move invalid signatures, at this point, the campaign expects to turn in about 400,000 to provide a strong cushion in case some are found invalid. These signatures have been collected in every one of Michigan's 83 counties. This demonstrates that Michiganders – from Houghton to Monroe – are behind fair, independent, and trans-parent redistricting reform in Michigan.
This campaign could not have reached this mile-stone without more than 3,000 trained volunteer circulators collecting signatures everywhere, every day, from flea markets to rest stops along I-75 to cow pastures and everywhere in between.
The organizers claim 13 times more individual donors than any other MI 2018 ballot initiative. These success stories suggest that the citizens of Michi-gan are ready for the change being proposed and are looking to finally end gerrymandering in our state.