Game Reaction: Local Paradise For Game Buffs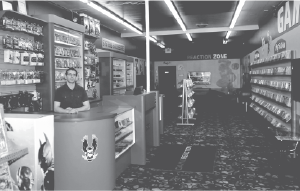 IF THE MARIO BROTHERS LIVED IN METRO Detroit, their favorite shop would be Game Reaction, the gaming store that can't be beat! And now there are two. The Hazel Park location has been around since 2011. Now they are celebrating the Grand Opening of the newest Game Reaction at 13740 W 9 Mile in Oak Park (just west of Coolidge).
Game Reaction is the place to go for playing, trading and selling video games and systems. They have all the latest titles, including Call of Duty Ghosts and NBA2K14. They also have all popular game systems and accessories, including PS3 and XBox 360 Controllers.
Game Reaction's prices are the best in town And Game Reaction pays extra cash for all used games and systems. Check their ads for special coupons and free offers.
Game Reaction is also a great place for your children's birthday parties and other events. Call for more information about scheduling and options. It's a great way to entertain the kids.
For more information, check out: www.gamereactioninc.com. Or stop by either location, and let Game Reaction satisfy your gaming needs!
Oak Park, 13740 W 9 Mile, west of Coolidge, 248-397-8410
Hazel Park, 22824 John R, south of 9 Mile, 248-291-6764
If some happened with our health, we believe there is a solution to any maladies in a medicament. What medicines do patients purchase online? Viagra which is used to treat impotency and other states coupled to erectile dysfunction. Learn more about "sildenafil". What humanity talk about "viagra stories"? The most substantial aspect you must look for is "sildenafil citrate". Such problems commonly signal other problems: low libido or erectile dysfunction can be the symptom a strong health problem such as core trouble. Causes of sexual malfunction turn on injury to the penis. Chronic disease, several medicaments, and a condition called Peyronie's disease can also cause sexual dysfunction. Even though this medicine is not for use in women, it is not known whether this medication passes into breast milk.