Former Resident Seeking Ferndale Time Capsules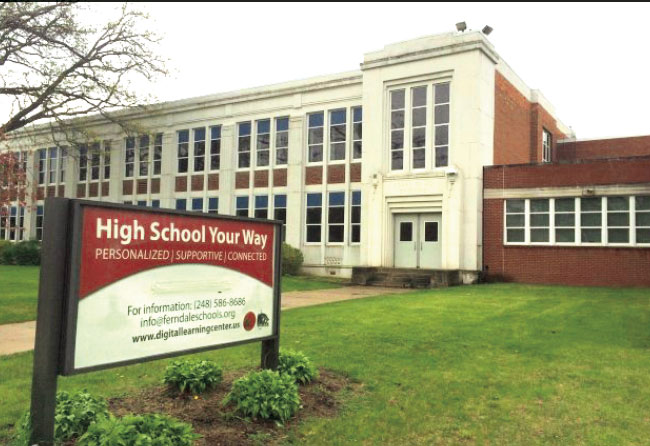 By Kevin Alan Lamb
IF YOU BURIED A PIECE OF CHILDHOOD, what piece would it be? At some point or another, most people had the opportunity to bury a time capsule in school; a chance to send a message to the future from the past; to remind yourself of the joy you once held in your heart; to smile and laugh at the kid you were, and the man or woman you've grown to be.
But what if that piece of you was still buried? What if you never had the chance to summon what lies beneath and embrace the sweet relief of nostalgia that only a time capsule could provide? Twenty-six-yearold Warren resident David Proimos is one of a thousand students from William Howard Taft Elementary who may never uncover a piece of their childhood as the site was demolished to make way for a 72-unit housing development called Parkdale Townes.
"If I remember correctly the time capsules were made of PVC pipe and we were asked to put our most prized possessions in there. I believe it was five or ten items, and they were dated and signed by us then buried in a shallow grave. My memory isn't the best so I couldn't for the life of me remember where we buried the things!" Proimos recalls.
FF: Do you remember what you put in your time capsule?
My memory is hazy but I feel like a baseball card and a letter to myself confirming that I had become a professional baseball player would have been par for the course.
I really, really, wanted to see what I buried. Years and years went by, and again I forgot. When Taft was to be demolished it brought back all the memories and my curiosity, so I began asking old classmates and got with my cousin, Joseph Proimos. He believed that they were buried near the trees in the back of the park near the old oaks and I vaguely could confirm this. The plot thickened when I learned they were doing this in the early '90s after posting in the Ferndale forum so the possibility of thousands being out there is great!
How far would you go to uncover a piece of your past? While some might dismiss the notion, I believe a time capsule symbolizes a simpler time, when your entire life was yet to unfold, and the only priority was to play. I think we could all use an intimate conversation with our younger selves. A reminder to take ourselves a little less seriously, be kind, and have fun. 
I'm very excited. If nothing else I'm going to buy a metal detector and kick it old school and try my luck, after getting permission to do so of course. Our plan is to excavate and return all the time capsules to their rightful owners.
FF: Have you made any progress with the Site Director regarding the location of the time capsules?
I have not. I was told by the City of Ferndale that I wouldn't be able to dig until Spring, so that kind of put a halt on contacting him.
FF: How many time capsules would you guess are buried?
There very well could be thousands out there. I found that they were doing this as early as the early '90s.
Are you still a Ferndale resident?
Currently I am a Warren resident, but I spent my entire life in Ferndale up until I was 19- years-old.
Could you talk about some things you remember from growing up in Ferndale that are distinctly different now?
Things are very different now. I've noticed that downtown has transformed. Ferndale is a bustling city with so much life and business opportunities but also has stepped away from the family-like town in my opinion. I don't see kids there like I used to. When I was a child we ran in very large groups back then.
What did you love as a seven-year-old? I ask that because I'm trying to imagine what I would have put in a time capsule at that age.
I distinctly remember two things off hand: I put Pokémon cards of high value in there and an omega yo-yo, those I know for sure. We also wrote letters to our future selves so that will be a very interesting read if found.
Outside of your own curiosity, what makes this meaningful for you?
This will be meaningful to me more than finding my own. To be able to surprise people with theirs, it brings a nostalgia that only the contents in the time capsule can produce. If I can help bridge that gap I will be paid in full!!
Since going down this rabbit hole, has your pursuit of this been contagious?
Yes, many other classmates and people in the FB Ferndale Forum have volunteered to help dig and lend a helping hand. The response was very positive and intriguing to everyone that saw it. It's a compelling story.