Forgotten Harvest : Repurposing Food to Feed Metro Detroiters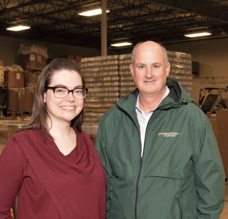 Story by Sara E. Teller
Photos by Bernie Laframboise
Forgotten Harvest was founded 27 years ago by Dr. Nancy Fishman, who knew firsthand what it felt like to go to bed hungry. "She had suffered the indignity of hunger herself and vowed to dedicate herself to relieving hunger in Metro Detroit," explained Tim Hudson, the organization's Chief Development Officer. "Nancy started Forgotten Harvest from the back of her own vehicle and began to rescue food from restaurants in the area."
Fishman's venture has since branched out substantially and, today, Forgotten Harvest employs over 70 people and has a fleet of 35 trucks that rescue food from grocery stores, restaurants, caterers, dairies, farmers, wholesale food distributors, and other Health Department-approved sources in and around its headquarters in Oak Park. In it's 2016-2017 fiscal year alone, the effort's Rescue Team has received over 45.8 million pounds of food by collecting surplus, prepared, and perishable items.
The food that is collected is redistributed to those in need, fulfilling Forgotten Harvest's mission of relieving hunger in metro Detroit and preventing nutritious food waste. "We deliver that food free of charge to over 250 agencies in Wayne, Oakland and Macomb counties," Hudson said. He added that those who need food can visit pantrynet.org directly, contact Forgotten Harvest at (248) 967-1500 or send the organization a message on any of its social media channels.
Forgotten Harvest offers volunteer opportunities at its headquarters in Oak Park, as well as at Forgotten Harvest Farms and is actively seeking participants. "Last year over 16,000 people volunteered at our Oak Park headquarters and at Forgotten Harvest Farms" Hudson said. "Interested parties can register to volunteer online. It's easy. There are two sessions held six days a week. Morning and afternoon sessions are available."
Recent notable donations to the cause include 16,200 pounds of frozen poultry contributed by Miller Amish Country Poultry on behalf of The Kroger Co. of Michigan this past December. The Miller Poultry contribution included 300 40-pound cases of frozen bagged drumsticks, representing approximately 36,000 meal portions; 300 12-pound cases of fully cooked chicken sausage, representing approximately 10,800 meal portions; and 100 cases of ground chicken, representing approximately 1,800 meal portions. Little Caesars Pizza also donated $30,000 toward the cause during the holiday season.
Hudson said that operating in Oak Park is ideal because, "It is a central location for our trucks and was chosen due to access to all major freeways." This allows volunteers to quickly and easily collect and redistribute items. He added, "One in six people face hunger or food insecurity in the Tri-County area," which makes being positioned in Oak Park important for readily providing hunger-relief services to those in need.
Forgotten Harvest is a member of Feeding America, a nonprofit organization that includes a nationwide network of more than 200 food banks which feed more than 46 million people through food pantries, soup kitchens, shelters, and other community-based agencies. Feeding America works to educate the general public about hunger. The national office produces educational and research papers spotlighting this issue, and its public policy staff works with legislators to advocate for changes in public attitudes and laws geared toward hunger issues to aid in nationwide hunger elimination and prevention.
Forgotten Harvest is creative with the ways in which it raises contributions to support its efforts. Twenty-six years ago, comedian Tim Allen co-founded Forgotten Harvest Comedy Night, and the Detroit-area comedian will return this year to host the event at the Fox Theatre on April 20 at 8:30 P.M. The annual event benefits and gives the organization's supporters a chance to showcase their achievements in the community. Past presenters have included Jay Leno and Martin Short, among other notable celebrities.
Tickets can be purchased at Ticketmaster.com, 313Presents.com, and ForgottenHarvest.org.