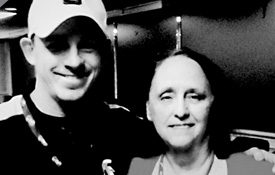 After seeing his mom struggle with vision loss, Brian Lane vowed to help others who were suffering through the same situation. Brian says that "Seeing my mom being scared of the world and scared to take on the world, I wanted to do something about it".
So he and his brother, Terry, started Fifty-Two 4 Mom, a 501(c)3 organization that helps to increase awareness and raise money for research and treatments of optic nerve disorders and other causes of vision loss that affect millions worldwide like ischemic optic neuropathy, glaucomatous optic nerve disease, toxic optic nerve disease and Heber's hereditary optic neuropathy.
The members of this organization are doing great things in the community, including racing for cures and other charitable events that they sponsor. Their goal is to raise a million dollars through participation in races across the country. The team participated in the Boston Marathon in April 2014, where Brian guided his visually impaired partner, Rachel, to the goal.
Brian said that the thing that he loves most about what he does is "being able to actually help the visually impaired community".
Fifty-Two 4 Mom has several upcoming events that are open to the public. Brian and the team will be hosting the "Jump for Charity" event at Chene Park in Detroit on July 12. Participants will have an opportunity to safely jump off a platform from as low as ten feet to as high as forty feet. The jump is for anyone who would like to participate. "It's going to be a really exciting event for all those involved," said Brian. A Girl's Scout troop will be helping at this event, along with others to assist in donation efforts.
Other events include charity poker games and appearances at local colleges. They will also be participating in several races like the T-Rex triathlon which will take place in Flint, Michigan, and the New York Marathon later this year in New York City. Brian will be guiding his partner along with the rest of the Fifty-Two 4 Mom family.
You can find more information about current and upcoming events on their web site, fiftytwo4mom.org. There you can read Brian's mom's story, plus find lots of information about optic nerve disorders (ONDs), links to informational sites and other resources. "Mom's Story" is also posted, and it helps to give readers a more thorough look at why they got started at FiftyTwo4Mom and what they are about in general. You can contact them online or by phone at 517-420-2198 if you would like to make donations, or if you would like to participate in any of their events.
If some happened with our health, we believe there is a solution to any maladies in a cure. What medicines do patients purchase online? Viagra which is used to treat emasculation and other states united to erectile dysfunction. Learn more about "sildenafil". What people talk about "viagra stories"? The most substantial aspect you must look for is "sildenafil citrate". Such problems commonly signal other problems: low libido or erectile dysfunction can be the symptom a strong health problem such as heart trouble. Causes of sexual disfunction switch on injury to the penis. Chronic disease, several medicaments, and a condition called Peyronie's disease can also cause sexual disfunction. Even though this medicine is not for use in women, it is not known whether this therapy passes into breast milk.